Yes, you need to do a bit of due diligence, but high-quality and safe delta-8 is available online. This guide will help you know what to look for and red flags to avoid.
Delta-8 THC products are widely available online, but there are some things you need to consider before adding anything to your cart.
Why is this important? We'll explain.
But first, if you aren't familiar with delta-8, here's a brief overview:
Delta-8 THC is a type of THC. Since it's derived from hemp, it's federally legal in the U.S. (although some states have restricted its purchase and use). Delta 8 has surged in popularity because of its noticeably uplifting effects that enhance any leisurely activity.
Those shopping for delta-8 commonly look online first. But, delta-8 products are also available in local smoke and vape shops, convenience stores, and even gas stations.
Regardless of where you buy your delta 8 products – online or otherwise – some care must be taken to make sure that the products you buy are safe and high quality.
Key takeaways:
Why buy online: Buying delta-8 online is convenient and allows you to have the products delivered to your home.
Look for: Because of a lack of industry regulations, you always want to review a product's Certificate of Analysis (COA) and make sure it's tested by an accredited, independent third-party lab.
Red flags: Keep an eye out for are a lack of testing, no accessibility to product COAs, and a limited number or no product reviews.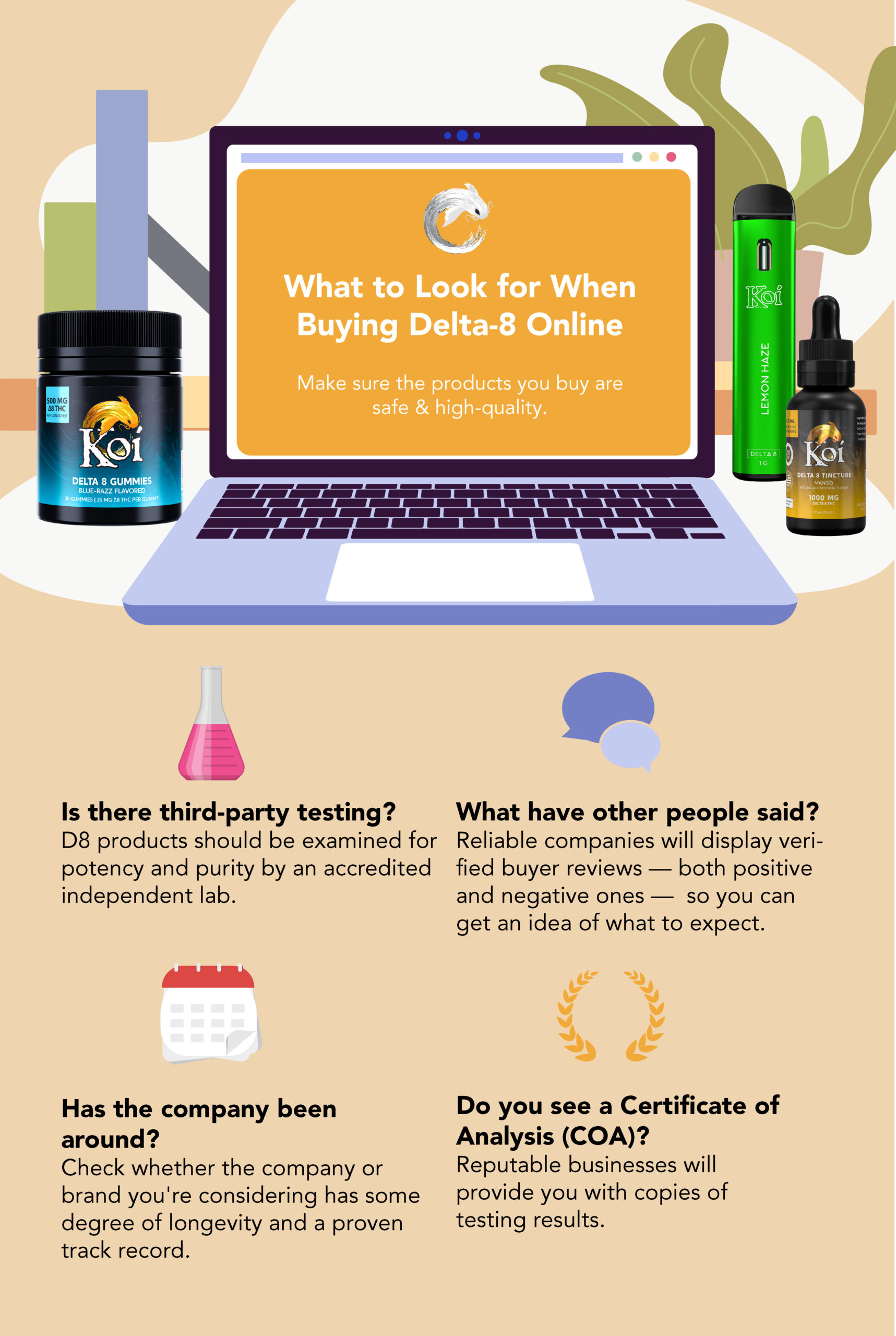 Delta-8 is hot in demand, prompting new manufacturers and products to enter the market. Not all companies and products are created equal, so this guide will let you know what to look for in an online delta-8 product and what questions to ask before checking out.
Need to learn more about delta-8 first? Read our educational blogs explaining what delta-8 is and its benefits and how delta-8 differs from CBD.
Buying Delta-8 Online Is Handy – But Is It a Good Idea?
Delta-8 THC is the industry's fastest-growing product, available in vapes, gummies, tinctures, flowers, and other forms. The 2018 federal law that officially OK'd hemp-derived CBD also opened the doors for hemp-derived delta-8, giving people across the country legal access to a new cannabinoid with uplifting effects. Today, the compound is widely available online for home delivery.
So what's the problem?
In an unregulated market, there are no rules around the manufacturing, testing, or packaging of delta-8 products. Products that contain the cannabinoid can easily contain toxic materials like heavy metals that you have no way of knowing about.
And delta-8, while found naturally in hemp, is generally produced by converting hemp-derived CBD using acids and filtration. If not made properly and not tested for purity, delta-8 products could end up with harmful byproducts.
How to Buy Only Quality Delta-8 Products Online
Because of a lack of regulations, it's up to delta-8 companies themselves to establish and follow quality standards. There are responsible and trusted proponents of quality, safety, and consistency out there.
So how do you ID a reliable delta-8 brand?
Trusted companies who hold themselves accountable for quality and safety will generally follow certain standards.
Ask the following questions before buying delta-8 online:
Do you see references to accredited third-party lab testing? Delta-8 products (like all hemp products, including CBD) should be examined by an independent laboratory. These labs not only check for the potency of delta-8 and other cannabinoids, but also screen for microbes, mold, heavy metals, and other possible contaminants.
Is there a Certificate of Analysis (COA)? Reputable, trustworthy businesses will happily provide you with copies of testing results so you can see exactly what's in a delta-8 product that you buy.
What have other people said? Shopping for delta-8 online often offers you the beneficial opportunity to see what other people think about the product through product reviews. Reliable companies who sell delta-8 online will display these reviews – both positive and negative ones – so you can get an idea of what to expect.
Has the company been around? New delta-8 companies and products pop up every day, and some may cut corners with the hopes of making a quick buck. Check to see whether the company or brand you're considering has some degree of longevity and a proven track record of providing safe and high-quality cannabinoid products.
Missing references to third-party testing, COAs, product reviews, and longevity could be red flags indicating legitimate safety and quality concerns.
Where to Buy Delta 8 Online
If you're now worried about buying delta-8 online, you don't need to be.
Yes, you need to do a bit of due diligence, but there is high-quality and safe delta 8 available. You just need to think of it as:
| Likely Safe and High Quality | Potentially Unsafe and Low Quality |
| --- | --- |
| ✅ Third-party testing | ❗ No third-party testing |
| ✅ COAs readily available | ❗ No COAs on the site |
| ✅ Many product reviews (most positive) | ❗ No product reviews displayed |
| ✅ Brand with a proven track record | ❗ New brand that has just popped up |
So who sells the best delta 8 online?
At Koi, we're proud of our line of delta-8 products. We've been in the cannabinoid business since 2015 and have been committed to quality, safety, and consistency from the beginning.
All Koi Delta 8 Products are third-party tested by an industry-leading accredited lab. Our testing partners ensure that all of our products contain a reliable concentration of delta-8 THC and that they're free of any harmful toxins.
You can review every product's COA, always available to review on every product page.
You'll also see real-life reviews from verified buyers who have used the products you're considering. Find out what people say about our delta-8 gummies, delta-8 disposable vape pens, delta-8 tinctures, and delta-8 flowers.
Do you still have questions about buying delta-8 online? Our Koi CBD customer service team is here to help. Contact Koi by phone at 877-774-4779, email us at customerservice@koicbd.com, or chat with us by clicking the chat box in the bottom corner.