If you're here, you know-- CBD can make a hugely positive impact on your pet's health. But how much CBD should you give them? How will you know if it's working? And what kinds of CBD pet products are available? Get all your CBD for pets questions answered here!
For people who love cats and dogs, having a pet is about more than just 'owning' them. Whether someone is a parent to a cat or a dog, an animal old or young, that animal is a part of their family, and people tend to want the best for their family members.
That means we don't just want our pets to survive and exist, we want them to thrive and live as colorful and comfortable of a life as we ourselves live. Living to the fullest extent is difficult, though, when suffering from stress, restlessness, or general fatigue - and sadly, many pets in the United States go through their lives with such ailments each and every day, just like many people do.
CBD is something that can assist humans with general wellness, and the good news is that it can do the same for pets. Like humans, mammals also have endocannabinoid systems, allowing them to benefit from CBD as well. And because they can benefit from it, pet owners across the nation feel relieved that there's something they can do for their pets without loading them up with medications which may have unintended side effects.
Join us as we investigate why CBD is beneficial for pets, the types of pet CBD products available, and some considerations to keep in mind as you start your pet on their CBD journey.
Why CBD is Beneficial for Pets
Before diving into the benefits of CBD for dogs, cats, and your other pets, a quick overview on what CBD is and how it works in your pet's body to promote better health: CBD is a hemp-derived compound that shares a similar molecular structure to compounds that your dog and cat's systems generate naturally.
These types of compounds, called cannabinoids, play an important role in the functioning of the body's endocannabinoid system, or ECS. Your pets's ECS, like yours, is responsible for keeping a long list of bodily functions balanced and operating at their best. Everything from mood and appetite to sleep and memory are regulated by the endocannabinoid system.
For the endocannabinoid system to keep these functions balanced, it needs an adequate amount of cannabinoids. So CBD can serve as a type of supplement to ensure that your pet's endocannabinoid system has what it needs to function at a high level, and keep your body's body in homeostasis. A well-operating endocannabinoid system means that your dog or cat feels and functions better while awake, and sleeps more soundly and restful.
CBD can promote a sense of wellbeing and comfort in cats and dogs - for example, take a rescue dog who is new to her environment. Just like humans, CBD builds up in your dog's system and its benefits will become more evident once they've been having them for a while. Adding CBD treats to her diet might be just the solution, because the CBD in them has the potential to ease her mind and make her feel more comfortable in her new surroundings - all of this relief encapsulated in something small that she'll inevitably get excited about eating.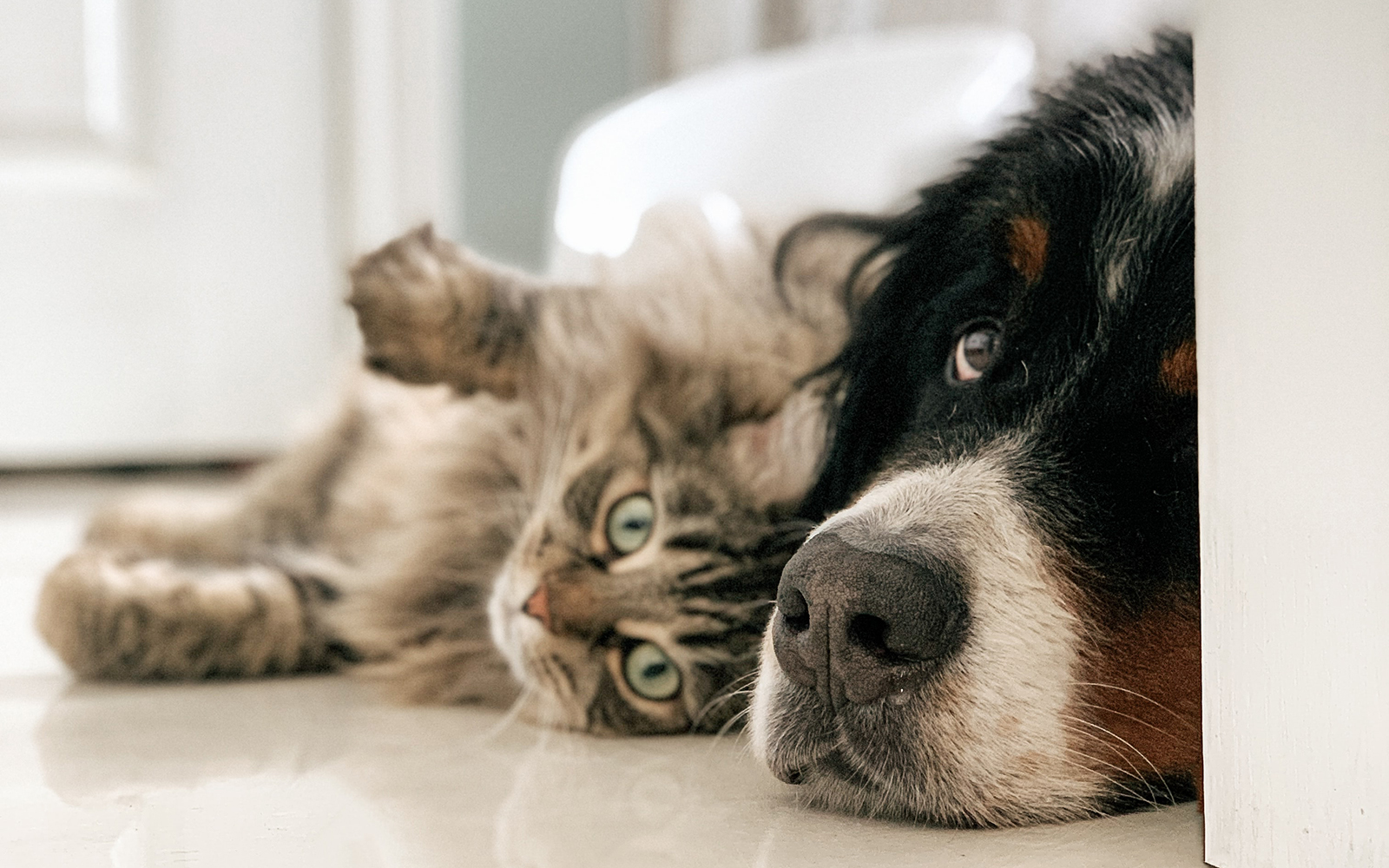 Types of CBD Pet Products
When it comes to CBD for pets, there are plenty of products on the market. There's CBD oil, which can be added to food - the process is as easy as putting a couple droplets into your pet's dinner every night and waiting for the effects to take hold.
There are also CBD treats, which can be ingested directly - much like the name suggests. They'll never know just how much it's helping them! Keep reading to explore the different Koi CBD products for your furry best friend!
Immune Support CBD Dog Treats
Could your dog use a stronger immune system? At Koi CBD, our Immune Support CBD Dog Treats are all organic and vegan, with a natural blend of high-quality, full spectrum hemp extract with natural ingredients like blueberries, flaxseed and sweet potatoes.
Made with non-GMO ingredients, we add hemp seed for its optimal ratio of Omega-6 and Omega-3 plus easily-digestible fiber. Rich in antioxidants, this blend supports immune system function and circulation. This flavorful, enjoyable wellness treat for your pet is sure to be a welcome addition.
Joint Support Dog Treats
For doggies with sore or tired joints, our Pumpkin Spice & Cinnamon Joint Support CBD Dog Treats are organic and vegan with a blend of our high-quality, CBD derived from full spectrum hemp extract and blended with non-GMO ingredients like pumpkin and Turmeric root. Turmeric and Cinnamon have been used in wellness for centuries. Known for their anti-inflammatory properties, we blend them with our full spectrum hemp extract to give your furry friend the extra support they've been looking for.
Calming Dog Treats
If your dog is high-stress, they may do well with our Koi Calming CBD Dog Treats, containing an optimal blend of our Koi CBD from full spectrum hemp extract with other natural ingredients. Chamomile has long been known to support stress relief and relaxation. We add this in with the amazing flavors of green apple and peanut butter, making our Koi Calming dog treats a great addition to your pet's wellness routine. Formulated to be all organic and vegan so that you can feel comfortable in knowing what you're giving your best friend.
The relief that CBD brings can be especially good for senior dogs, dogs with a fear of thunderstorms or fireworks on July 4, and dogs who could benefit from the soothing and restorative effects of CBD.
CBD Cat Treats
Treats can also be an easy and enjoyable way to provide your cat with their daily CBD. CBD cat treats are bite-sized treats infused with full-spectrum CBD and other natural ingredients designed to promote your kitty's overall health. They contain a lower milligram of CBD that's more appropriate for cats. And when used regularly, they can encourage homeostasis and better functioning.
For cats, regular servings of CBD cat treats can also keep them centered. If your kitty gets uneasy when you leave the house, CBD can provide a sense of calm and help them settle down.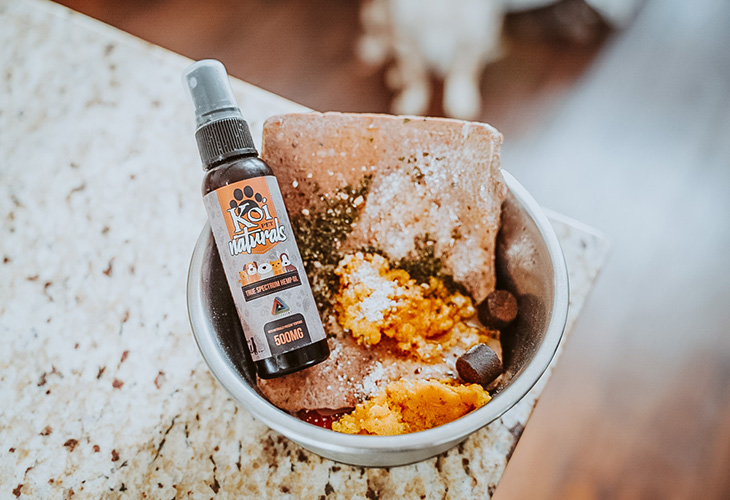 Pet Spray
Dogs and cats tend to grow partial to a specific brand of food. If you have a picky four-legged member of your household, then CBD Pet Spray could be a great option for them. Instead of supplying it by itself, like Soft Chews, Pet Spray can be sprayed onto anything your pet already consumes - and it will offer the same effect.
But if that's not the way you want to administer it; there are other options, too. It can also be sprayed onto your pet's tongue (the liquid comes out in a straight line, rather than covering a wide area) or used topically on your furry friend's body - wherever they may specifically need it.
How Much CBD to Give Your Dog and Cat
The right amount of CBD for your dog and cat can be different from the right amount for other pets. It all depends on your dog or cat's particular needs. When it comes to whether or not CBD is the right choice for your pet, go about it like you would go about trying it yourself.
Koi pet products do come with a recommended serving to get you started. Deciding how much CBD for your dog or cat to consume can be tricky to navigate, because they don't have the ability to tell us in words how they're feeling.
It's a good idea to start with the recommended serving or a little less, and then work your pet's intake up gradually as needed. Start small and keep track of how much and how often you give the products to your pet - then, gauge the effects. After that, wait a day and increase the serving (if necessary) until you find the desired results.
A big key to success is being consistent with your pet's CBD servings. A daily CBD routine for your dog and cat will maximize the compound's benefits and can offer better wellness results over time.
Gauging the Results: How to Know if CBD is Benefitting Your Pet
Even though your pet can't talk, they won't need to for you to be able to see how CBD benefits them. Dogs and cats show their happiness through their body and behavior, and their happiness is largely affected by how good they feel physically.
Remember, CBD could make your pet sleepy, but that's not always a bad thing! Keep an eye on them and be sure to note any change in behavior. It's also a good idea to keep a journal of your pet's behavior, just in case it slips your mind from day to day.
Write down the small idiosyncrasies you notice, or changes in his behavior and the way he moves. It helps to get a new set of eyes, too - ask a friend if they notice any changes in your pet. Sometimes, when it comes to our own perspective, we're too close to the situation to really see any difference. But if you ask a friend for their opinion without telling them that you've begun to give your pet CBD, that's as close as you can get to a blind study. When they're not expecting a blatant change, they'll give you the most accurate answer.
Once the CBD has had time to build up in their system, general improvements will become more easily visible.
Quality Matters: Choose a Quality CBD Product for Your Pet
As with CBD for humans, quality matters. You want a product that is pure, safe, and of the highest quality for best results - and we want that, too!
That's why Koi is so dedicated to supplying the best possible CBD that will allow people - and pets - to live better. Rest easy knowing that Koi CBD pet products are expertly formulated by veterinarians. Koi provides the finest and most consistent CBD oil on the market because all of our products are infused with hemp grown and extracted in the USA.
And even though we provide top-notch products, we are always looking to get better. We want better practices, better prices, better education, better days, and better lives - for both you and your pets!
When it comes to testing, we test each and every final batch of our CBD in an accredited, independent lab. All of the details of these CBD for pets test results are made available for you, As you'll see, we value full transparency when it comes to what's in our products.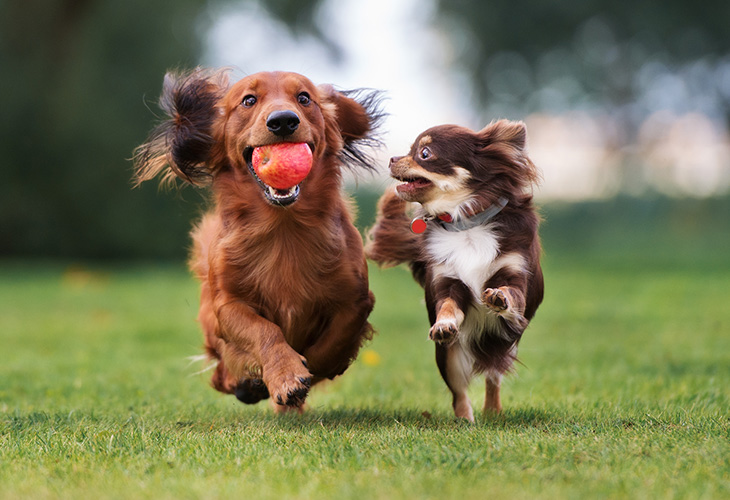 What CBD Products are Best for Your Pet?
We mean it when we say that we live by the standard of 'better,' and are consistently improving. A happy body makes for a healthy mind, and both of those things put together create a happy life - and as much should be said for both yourself and your pet.
We live by these words on our Koi Story page: "We're a remedy for misunderstanding and misinformation. We're proponents of quality, safety, and consistency. We're ambassadors of responsible farming, extraction, and distribution."
We truly care about our customers-- that includes your dogs, cats, and other animal family members! Your pets deserve the finest products that promote wellness, balance, and general health, and at Koi we have some great choices for them that will improve their quality of life, and by proxy, yours too.
At Koi, we have a variety of great CBD products meant for pets (dogs and cats specifically) that can help them live their best lives. If you need any help in deciding the best approach to giving your pet CBD, you can always contact Koi CBD and our friendly customer support team and we'll be happy to assist you!