Get to know our sought-after broad-spectrum CBD tinctures and find your favorite flavor with new Koi Naturals Tinctures To-Go.
Now you can try all flavors of our popular line of Koi Naturals Broad Spectrum CBD Tinctures!
Introducing Koi Naturals Tinctures To-Go, made up of 5 individual samples of our highly sought-after broad-spectrum tinctures. In this variety flavor pack, you'll get one of each flavor – Strawberry, Orange, Lemon-Lime, Spearmint, and Peppermint – to help you find your favorite.
Koi Natural Tinctures To-Go are made up of 5 single-serving 1.2 mL sachets. Each handy-sized sachet contains 40 mg of CBD with nutritious MCT oil to promote better absorption. Small enough to slip into any pocket, Koi Naturals Tinctures To-Go are also perfect for on-the-go use.
Ready to get started? Order your Koi Naturals Tinctures To-Go now.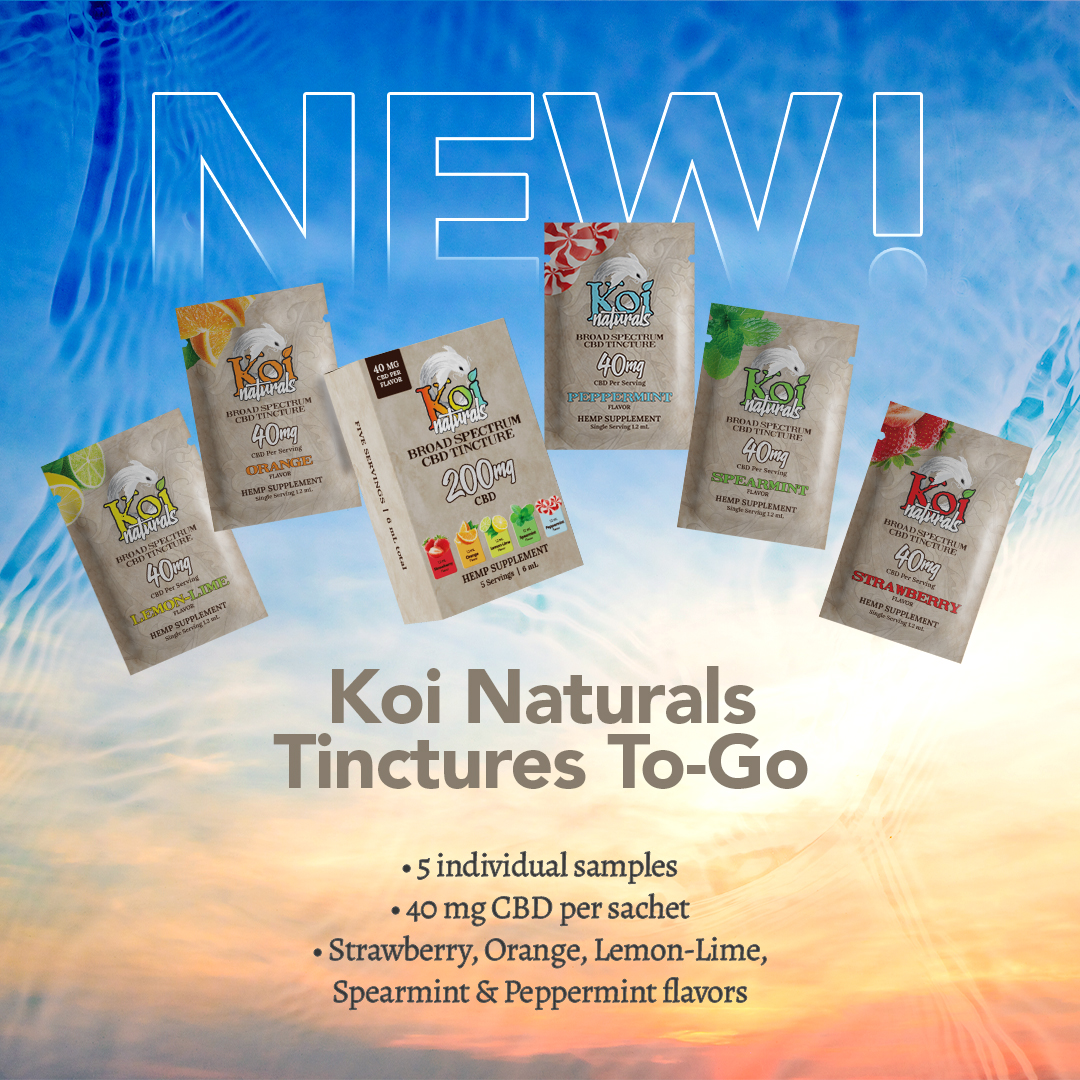 Uses Koi Naturals Tinctures To-Go
To best use Koi Natural Tinctures To-Go, sip the entirety of the liquid from the packet and hold it under your tongue for 30 to 60 seconds before swallowing. This allows the CBD and other beneficial compounds to absorb more efficiently through the mucous membranes in your mouth.
CBD is known for its natural balancing properties. Once absorbed, it stimulates the body's endocannabinoid system, a major regulatory network key to keeping a wide array of functions (sleep, mood, stress response, etc) in homeostasis. It's best to use CBD every day to maximize its benefits.
Tinctures provide the benefits of CBD oil in a handy liquid form. Compared to other types of products, they offer more versatility. In addition to taking them under the tongue for the fastest absorption. You can also add them to your favorite foods and beverages. Learn more about the advantages of tinctures compared to gummies and vapes.
Benefits of Broad Spectrum CBD
Our Koi Naturals CBD Tinctures are crafted with our premium Koi PRIZM™ broad spectrum hemp extract to deliver naturally-occurring CBD and many other minor phytocannabinoids found in the plant. Together, they work synergistically to promote an overall sense of balance and calm. They're designed to be used as part of a daily wellness plan.
Broad-spectrum hemp oil is ideal for those seeking the powerful wellness properties of CBD oil but would prefer to avoid even small amounts of THC. Broad spectrum CBD oil differs from full spectrum CBD oil in that the small amounts of THC native to hemp are isolated and removed through an additional process.
Tinctures from Koi
Like all Koi products, our tinctures have their potency and purity verified by accredited third-party testing. Get started with Koi Naturals Tinctures To-Go by visiting our online CBD shop.