Our new 2-gram vape disposables are ready to go out of the box, delivering the unwinding benefits of delta-8 THC with your choice of three strain-specific terpenes.
It's time to kick back and unwind! New Delta 8 THC Disposables Vapes boast the relaxing and mood-boosting benefits of Delta-8 THC in a ready-to-go vape featuring the high quality you've come to expect from Koi. Are you ready to really chill? These new disposables have the perfect combination of delta-8 and terpenes and are a must for evenings and weekends!
Ready to get started? Order your Koi Delta 8 THC Disposable Vapes now.
Koi Delta 8 THC Disposables Vapes come in three enjoyable terpene strains. Choose from Lemon Tree (Hybrid), Dream Cake (Sativa), and Grandaddy Purp (Indica), depending on the relaxing experience you're looking for.
Perfect for those new to vaping and experienced, our 2-gram vapes are air-draw activated for quick pulls throughout the day. Preheat functionality heats the oil before your first draw to ensure a smoother, more flavorful experience with less clogging. A 280mAh rechargeable battery and high-grade ceramic coil heating element deliver optimal vapor production.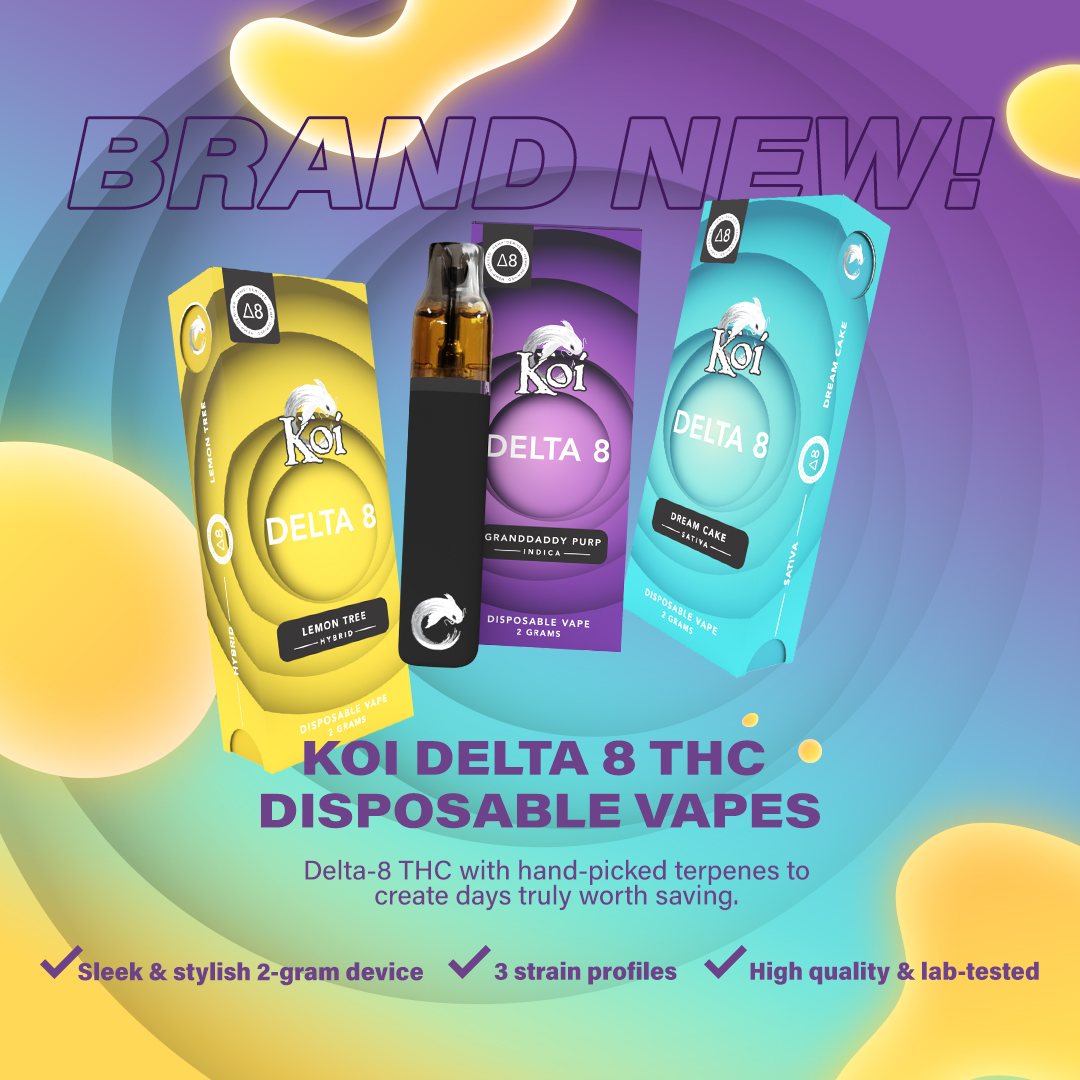 These new vapes expand on our line of 2-gram vape disposables. They join our Delta 8 + THC-O + THC-P Disposable Vapes, our Full Spectrum CBD Vapes, our Full Spectrum CBD + CBG Vapes, and our Full Spectrum CBD + CBN Vapes.
Are you new to disposable vapes and curious whether they're easy to use? They are! Visit our Guide to using Koi 2-Gram Disposable Vapes for more information on how they work.
New Koi Delta 8 THC Disposable Vapes are available now in our online CBD shop and in thousands of our retailer partners across the U.S. Try all three or find your favorite!