Georgia adults can legally buy and use Delta 9 products derived from hemp. Here you can learn about Delta 9 laws in Georgia.
Since the inception of the 2018 Farm Bill, the Delta 9 legal landscape has changed dramatically. Over the past few years, more states have legislated about Delta 9, with some legalizing its use.
The legal waters around Delta 9 are still murky and turbulent, with most hemp fans required to stay engaged to keep up with the ever-changing legal situation of Delta 9 at the national and state level.
Key Takeaways:
The legal limit for purchasing Delta 9 products requires that the products have no more than 0.3% of Delta 9 THC on a dry weight measurement system.
Delta 9 THC products are legal to purchase if they meet the legal criteria and you're 21 years or older.
Marijuana-derived Delta 9 remains illegal in Georgia.
Georgia has been among the states that have made major strides in the legalization of Delta 9. The state has passed various legislations that have made access to Delta 9 easier within Georgia.*
What is Delta 9 THC?
The cannabis plant has over 100 natural compounds. Over 100 of these are cannabinoids, and Delta 9 is the most famous and sought-after. Other cannabinoids present in the hemp plant include Delta 8 and CBD.
Delta 9 THC, or Delta 9 Tetrahydrocannabinol, or simply THC, is found in both hemp and marijuana plants but is more abundant in the latter. Initially, D9 was extracted from marijuana, but not anymore. Modern science has made it possible to draw Delta 9 from raw hemp.
Even better, more D9 benefits have been discovered, which has only increased the popularity of the cannabinoid. Although some of these benefits don't have the scientific data to support them, numerous anecdotal reports suggest that Delta 9 could have many wellness benefits.
What's the Difference Between Delta 8 and Delta 9?
As you look into Delta 9, you will likely come across Delta 8. The two compounds are closely related in their structure and in the effects they produce. But they are also quite different. In fact, you could say they are two different cannabinoids with their own unique effects.
They are both forms of THC within the cannabis plant with a similar chemical structure. But they have a distinct difference at the molecular level.
Delta 8 is an isomer of Delta 9. Delta 9 has a double bond on its ninth carbon chain, while Delta 8 has a double bond on its eighth carbon chain. A small difference, it might seem, but it makes all the difference in how each of the cannabinoids affects the body.
While certain extracts and variants of Delta 9 are controlled substances, Delta 8 is not. That's because Delta 8 produces milder uplifting effects, but they are still notable and effective. Also, Delta 8 only occurs in small amounts in the hemp plant. Some manufacturers prefer to make it from CBD, which is more abundant. Therefore, it is not a controlled substance, and it is not federally illegal.
Common Effects of Delta 9
Traditionally, Delta 9 was used for its uplifting effects. But over the years, more uses and benefits of Delta 9 have emerged through research and consumer reports. The most common among these benefits and effects include:
Uplifting effects
Delta 9 has been used for its uplifting effects for ages. When taken in large amounts, it produces stimulating effects that naturally boost energy reserves and keep you sharp when undertaking demanding tasks. It was also used by laborers in the fields to help them push through the day.
Relaxation and sleep support
When taken in smaller amounts, Delta 9 has been reported to have calming and relaxing effects. Some people have taken it to aid in calming racing thoughts and helping them sleep better.
Natural relief support
Delta 9 is said to have powerful body-soothing properties that ease tightness and tension, so you feel physically better. Combined, these benefits deliver a potent punch that may help to deliver some discomfort relief.
Soothing the body also goes a long way in helping you sleep and rest better. This is one of the reasons why Delta 9 edibles and other products have become so popular.
Delta 9 THC and Federal Law
Now that you're all caught up on the recent advancements in Delta 9, you're ready to tackle the legal questions surrounding it. The legalities of Delta 9 start at the national level, which is why any discussions about the legalities of Delta 9 should start with Federal law.
The legal history of cannabis in the United States is a long and illustrious. Cannabis was federally prohibited in the United States for over 75 years. This prohibition only changed when California made cannabis legal for medical use in 1996. In 2012, Washington and Colorado also legalized cannabis.
It wasn't until 2018 until the first major leap in cannabis legislation when President Trump signed the 2018 Agriculture Improvement Act, better known as the 2018 Farm Bill.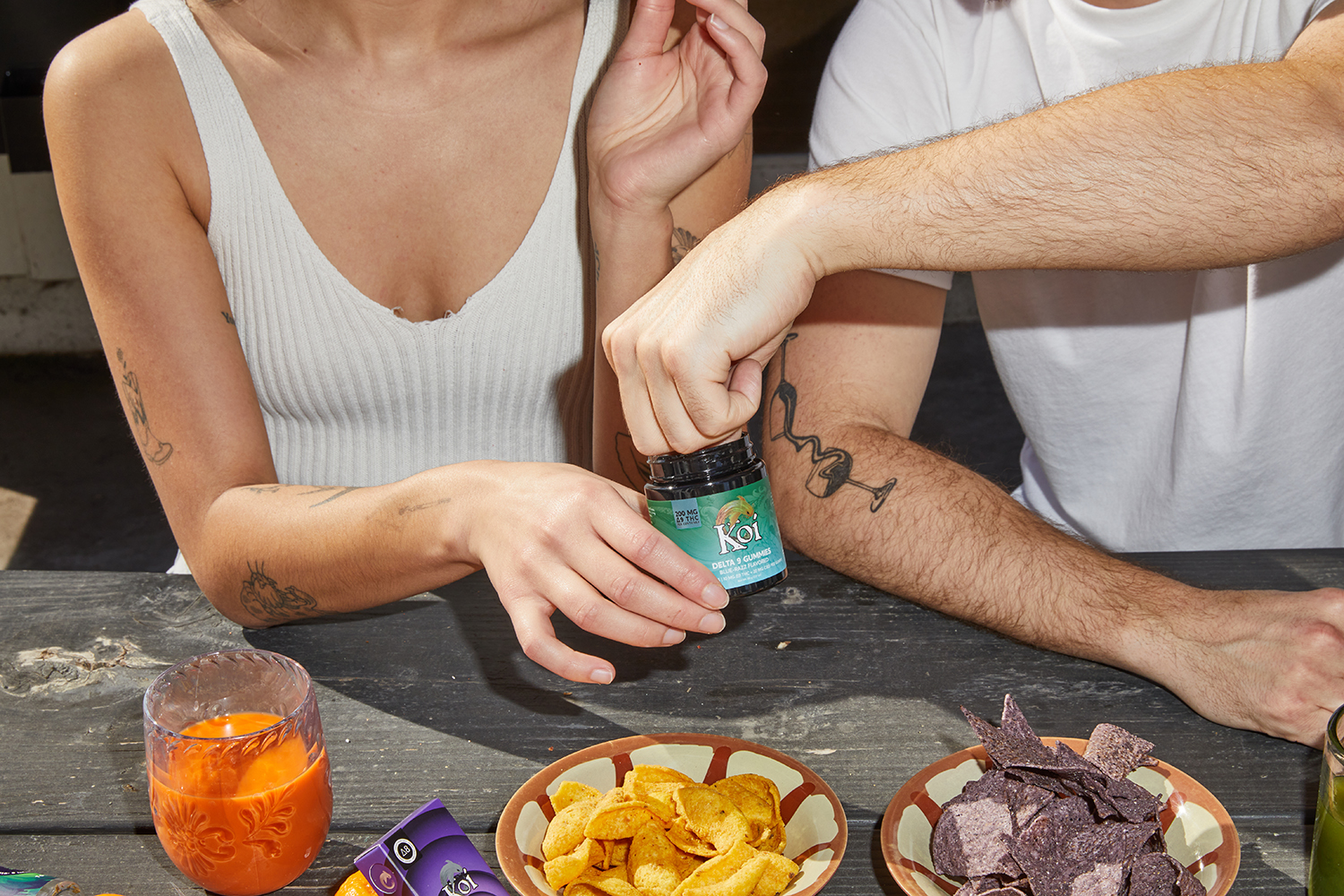 How is Delta 9 THC Legal in Georgia?
Delta 9 THC is federally legal in the United States courtesy of the 2018 Farm Bill if it meets the following conditions:
The Delta 9 is derived from hemp, not marijuana
The Delta 9 THC products contain 0.3% or less of Delta 9 THC by dry weight
After legalizing hemp for industrial purposes at the national level, Georgia followed up with similar state legislation authorizing the commercialization of Delta 9 THC products. The Georgia House Bill 213 was signed into law shortly after in 2019, which authorized the Georgia Department of Agriculture to administer a state hemp program and accordingly legalize hemp in consumer products and in its growth and production.
2018 Farm Bill
The 2018 Farm Bill played a crucial role in removing hemp from the DEA's list of controlled substances.
The bill differentiated hemp from marijuana, which is cultivated for its high THC content. But even though hemp is legal on a federal level, each state has to determine which hemp-derived products are legal in the state.
The 2018 Farm Bill gives states the authority to submit plants to the United States Secretary of Agriculture in order to have primary regulatory control over the production of hemp within their borders. The plans must include procedures for tracking the land on which hemp will be grown and other procedures.
Georgia House Bill 213
In 2019, Governor Brian Kemp signed House Bill 213, also called the Georgia Hemp Farming Act, into law. It legalized the state's production, growth, and transportation of industrial hemp. The bill also brought Georgia's hemp program in line with federal law as part of the 2018 Farm Bill.
Marijuana-Derived Delta 9 in Georgia
Some states have gone further and successfully legislated programs that allow legal access to marijuana-derived Delta 9.
However, Georgia is not among them. Recreational and medical marijuana are illegal in Georgia. Growing, possessing, and smoking marijuana are criminal offenses punishable by fines and imprisonment in Georgia. However, there is a lawful pathway for patients to access low-THC oil if they are registered with the Georgia Department of public health. There is a whole process behind this.
Georgia Hemp Farming Act
There is also the Georgia Hemp Farming Act which details most of the legal Hemp requirements in the state of Georgia.
SECTION 2-23-3—Hemp Definitions
The intent of this chapter is to:
(1) Promote exploration of the cultivation and processing of hemp and the potential to open up new commercial markets for farmers and businesses through the sale of hemp products;
(2) Explore expansion of the state's hemp industry and allow farmers and businesses to begin to cultivate, handle, and process hemp and sell hemp products for commercial purposes;
(3) Encourage and empower research into growing hemp and creating hemp products at universities and in the private sector;
(4) Ultimately move the state and its citizens to the forefront of the hemp industry;
(5) Balance the desire to explore the cultivation and processing of hemp with public health, safety, and welfare regarding the potential for unwanted and unlawful uses of chemical elements of hemp; and
(6) Enable the department, licensees, and universities to promote the cultivation and processing of hemp and the commercial sale of hemp products.
As used in this chapter, the term:
(3) 'Federally defined THC level for hemp' means a delta-9-THC concentration of not more than 0.3 percent on a dry weight basis, or the THC concentration for hemp defined in 7 USC Section 5940, whichever is greater.
(5) 'Hemp' means the Cannabis sativa L. plant and any part of such plant, including the seeds thereof and all derivatives, extracts, cannabinoids, isomers, acids, salts, and salts of isomers, whether growing or not, with the federally defined THC level for hemp or a lower level.
(10) 'Research' or 'researching' means experimental field, greenhouse, or laboratory activity to develop new hemp varieties and products, improve existing hemp products, develop new uses for existing hemp products, or develop or improve methods for producing hemp products.
(11) 'THC' means tetrahydrocannabinol, tetrahydrocannabinolic acid, or a combination of tetrahydrocannabinol and tetrahydrocannabinolic acid.
How to Buy Legal Delta 9 Products in Georgia
Even with the 2018 Farm Bill and the State regulations, Delta 9 products cut very close to the limit. That is why you have to make sure you buy them from a reputable shop or company. So you don't end up with an illegal product that violates the law.
In-person
You can buy Delta 9 products in person at most vape shops and natural health stores. We recommend purchasing from a reputable shop with good reviews and high-quality products. Buying substandard products at physical shops is easier than you think.
Online
Most cannabis fans prefer to buy their Delta 9 gummies and other products from online stores. That's because they offer more diversity, and the products can be shipped directly to your doorstep.
Buying online gives you more opportunity to research the company and don't have the same pressure at retail stores. You can take your time reading the reviews, testing the results to determine if the company fits your needs, and checking other vital documentation like the certificate of analysis.
Choose a reputable brand
It's easy to get caught up in all the variety that is currently available. But remember, the hemp space still has very little regulation, which opens the door for shady companies trying to make a quick buck. Every brand you consider must have a reputation on and off-site.
3rd party testing
Reputable brands rely on 3rd party testing to earn the trust of their customers. 3rd party lab testing is a great way to verify the quality, purity, and content of Delta 9 products. You should check the CoA of every Delta 9 product before purchasing them to ensure you're getting value for your money.
* Legal disclaimer: The information presented is not legal advice, is not to be acted on as such, may not be current, and is subject to change without notice. This article was last updated in May 2023, and laws are different from state to state and are constantly evolving. Please consult an attorney where you live for verification of the legal status of Delta 9 products.