At Koi, we are all about thinking forward, and it's high time we stepped up our game and upgraded your experience on KoiCBD.com. Today, we launched our new KoiCBD.com website to make it easier for you to experience the benefits of Koi.
We're excited to unveil a new and improved web experience at KoiCBD.com! We've been working hard behind the scenes for months on a completely fresh redesign, all to make getting your favorite Koi products even easier and better. It's now live and located at the same address: https://koicbd.com/.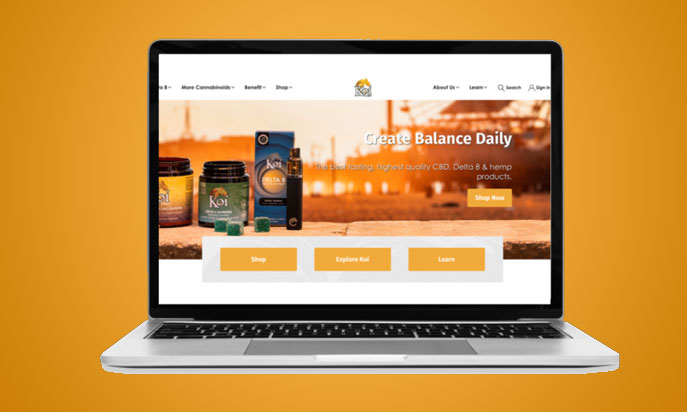 Our new site is faster and easier to navigate to find your favorites. Now, you can order more quickly and easily, learn more about the products you buy, and get new recommendations. Find all the Koi products you love at KoiCBD.com - with a fresh look and feel!
Find your favorite Koi more quickly in our streamlined menu navigation. You can shop by cannabinoids (CBD products, Delta-8 products, More cannabinoids), by the benefit you're looking for (sleep, recovery, relaxation, etc.), or go right to Koi CBD Best Sellers to see what other customers like best.
Want some help deciding the right Koi product? Our new interactive video product recommendation tool is available on the homepage and will help guide you to the right Koi products depending on your needs and preferences.
If you've ever searched for "CBD near me," you'll appreciate our upgraded Koi Shop Locator, which helps you find local stores near you that carry Koi.
The Koi Blog will continue to be a helpful resource of educational information, articles, and announcements to help you maximize your experience with our cannabinoid products. Its Topics tool in the right sidebar makes it easy to filter and find the information you're looking for. Or you can check out our most Popular articles to see what everyone else is most interested in.
Use our new website to talk directly with our helpful customer service team through live chat or our contact page. You can also always call us at 877-774-4779.
And don't worry. If you have existing order history, subscriptions, rewards points, and shipping information, those are still in place and ready for you on the new site.
Have questions? Chat with us or send us a message at customerservice@koicbd.com.