'Tis the season of gift-giving, and we've made it simple with our guide. Gifting CBD, Delta-8, and other Cannabinoid products is a great way to show anyone on your list that you're thinking of them and truly care.
You know that friend who's had a stressful time at work lately? Maybe your partner has been struggling to sleep? Or your hard-working best friend who deserves to take breaks throughout the day? These CBD and delta-8 gifts are for them.
This holiday season, treat them with the gift of happiness and health. Self-care and relaxation look different for everyone, but cannabinoids are a must-have for anyone looking to feel and live better.
Shop our holiday CBD gift guide to find the best wellness presents for the loved ones in your life! And if you'd prefer to keep your gift buying simple this year, we've curated four Koi Holiday Gift Bundles. Go ahead, and add a second to the cart for yourself.
Koi Holiday Gift Bundles
The Koi team has put together four incredible holiday bundles that include our most popular products at significant savings. Finish off your holiday shopping, stock up on favorites for yourself, and maybe even try something new this holiday season.
Wellness Bundle
Our Wellness CBD Holiday Bundle features an assortment of our top-selling CBD products designed to build a CBD routine from scratch. Promote an everyday sense of calm and balance and nourish the body inside and out. A holiday CBD gift box that everybody is sure to love - wellness enthusiasts, world travelers, and everyone in between!
Koi Anytime Balance CBD Gummies (60-count jar) for daily wellness support.
Koi Nighttime Rest CBD Gummies (60-count jar) to promote a healthy sleep cycle.
Koi Naturals CBD Balm (Travel Size) to soothe sore muscles and troubled skin areas.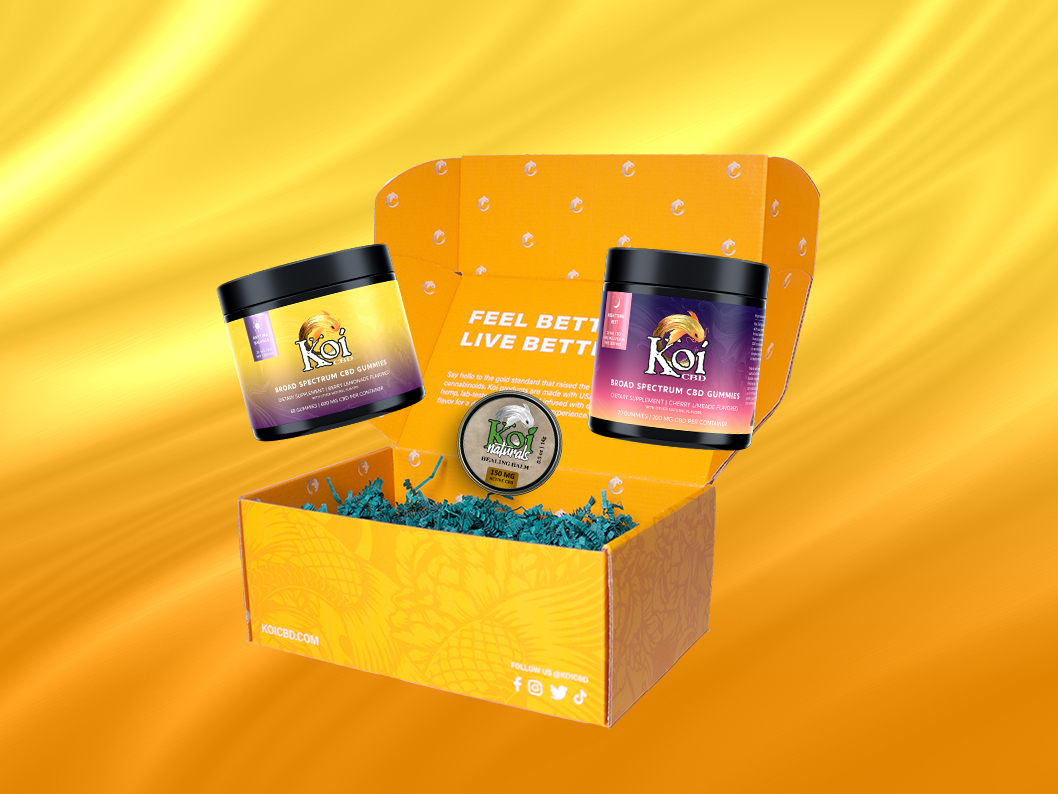 Relaxation Bundle
Hemp's valuable cannabinoids can also offer some powerful relaxation. With our Relaxation Holiday Bundle, enjoy an assortment of our most popular relaxing gummies that help take the edge off. Perfect for the busy mom or anyone who deals with stress.
Koi Delta 8 THC Gummies (20-count jar, Blue Razz flavor)
Koi Complete Full-Spectrum CBD Gummies (30-count jar, Pineapple flavor)
Koi THC-O Gummies (20-count jar, Watermelon flavor)
High Hopes Delta 8 THC Gummies (10-count jar, Raging Watermelon flavor)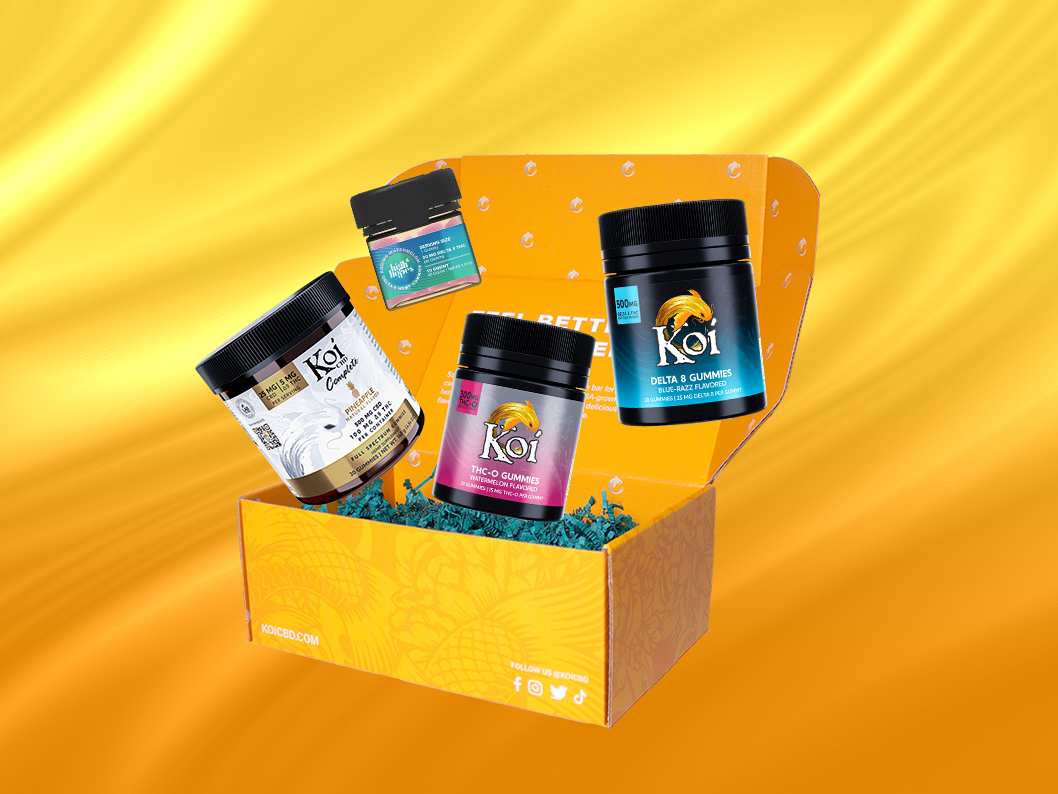 Mega Relaxation Bundle
There's a lot to be stressed about these days. Luckily, cannabinoids can be a great way to let tension loose in a healthy way. So for the person in your life who has trouble unwinding, our higher-count Mega Relaxation Bundle can't be beat.
Koi Delta 8 THC Gummies (60-count jar, Watermelon flavor)
Koi Delta 9 THC Gummies (60-count jar, Blue Razz flavor)
High Hopes Delta 8 THC Gummies (30-count jar, Totally Tropical flavor)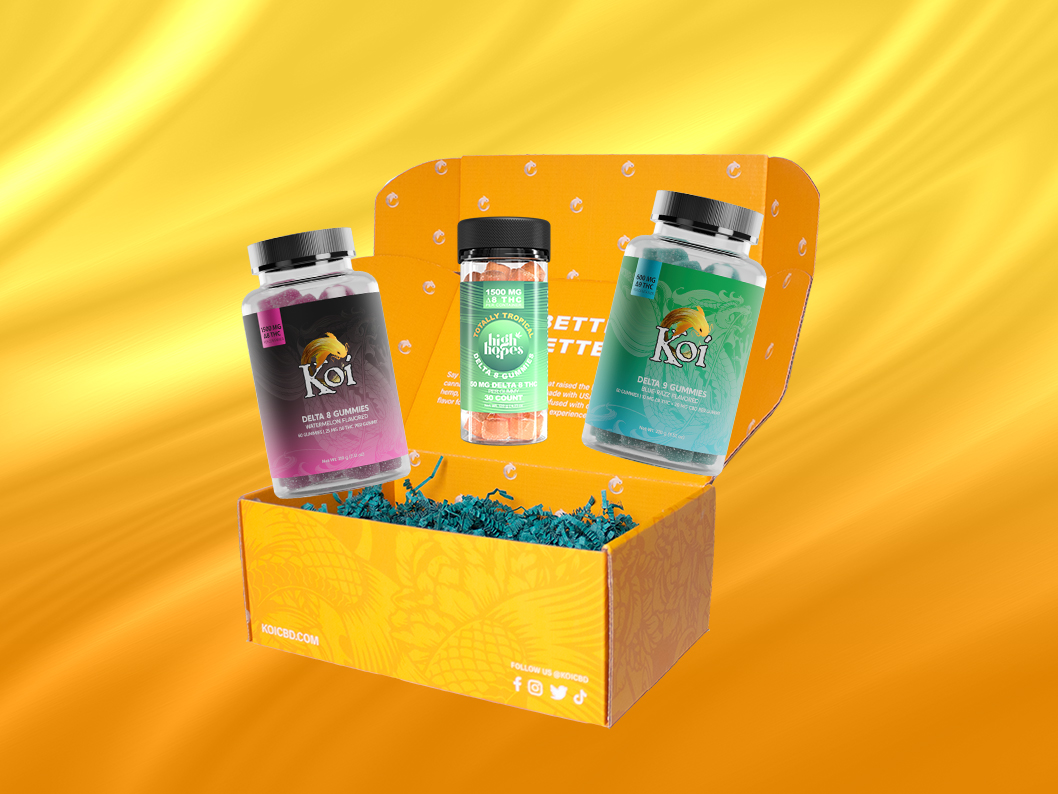 Vape Bundle
Vaping is the fastest way to deliver the benefits of CBD and other cannabinoids to your body's systems. So for the vape lover in your life, we've curated our Vape Bundle, made up of an assortment of our top vape products to keep you puffing in style.
Koi Full-Spectrum CBD + CBN Disposable Vape (Papa Twist) for a more peaceful slumber.
Koi Delta 8 THC Disposable Vape (Sour Tangie) to help you kick back at the end of the day.
Koi Delta 8 THC + THC-O + THC-P Disposable Vape (Dream Cake) for deeper relaxation needs.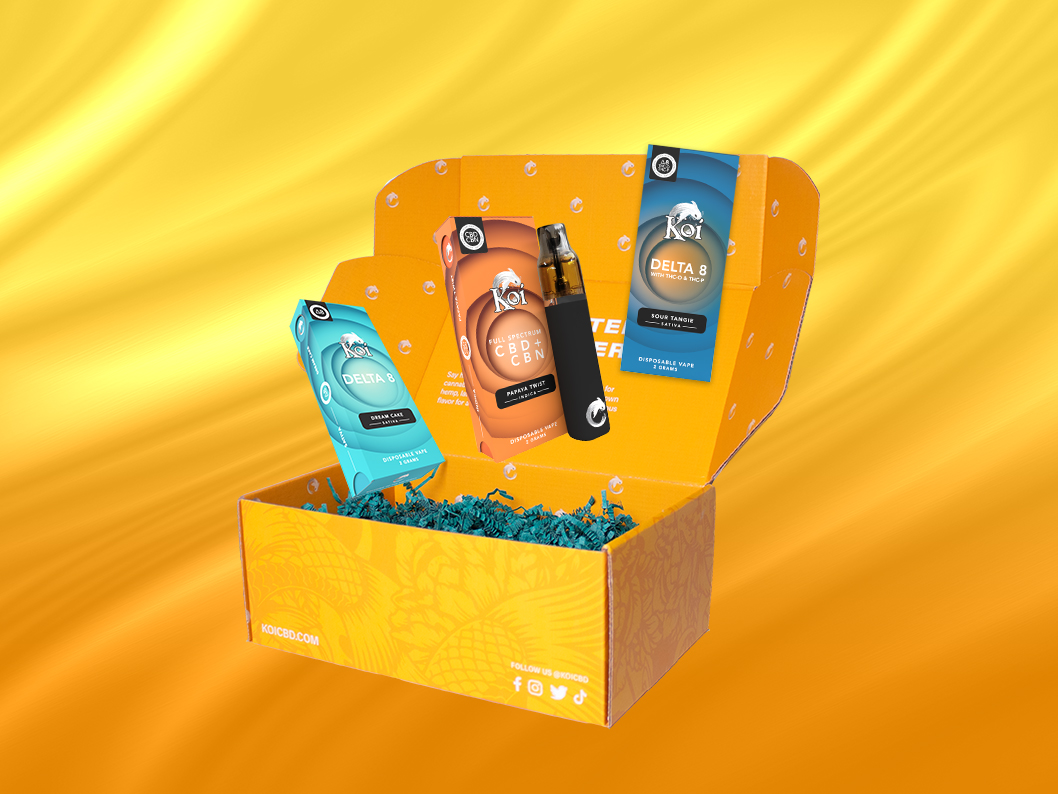 The Perfect Gifts for Friends and Family
We know that finding the right gifts for each of your loved ones can be overwhelming. So, we've also rounded up 6 of our top Koi gifts to help you find the perfect wellness gift idea. There is something for everyone on your list!
Look no further for the perfect stocking stuffers and Secret Santa gifts. There's no better way to spread the CBD, Delta-8, and other cannabinoids cheer than giving your loved ones the highest quality products from Koi.
For the Sleep Struggler
Help your friend that could use a restorative and relaxing slumber by gifting them Koi Complete Nighttime Rest Gummies. With full-spectrum CBD, sleep-supporting CBN, and powerfully relaxing Delta 9 THC, they will put your loved ones on the path to dreamland. Available in Orange Cream and Black Cherry flavors, these gummies were made to deliver an easy and delicious way to get that restful night of sleep.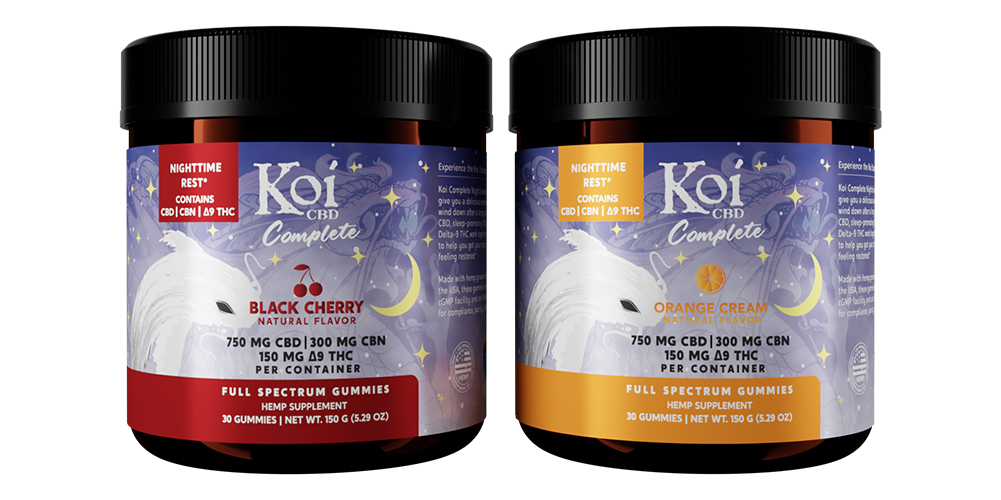 For the Creative
Whether they're a whiz at sketching landscapes or obsessed with crafting the perfect song, Koi HHC Gummies can help your artsiest friends get into their creative groove. HHC delivers a sense of relaxation to quiet unwanted thoughts while keeping their mind clear, so your loved one can let their creativity soar. And while you can't go wrong with any of the five delicious flavor choices, Blue Razz and Watermelon are top sellers.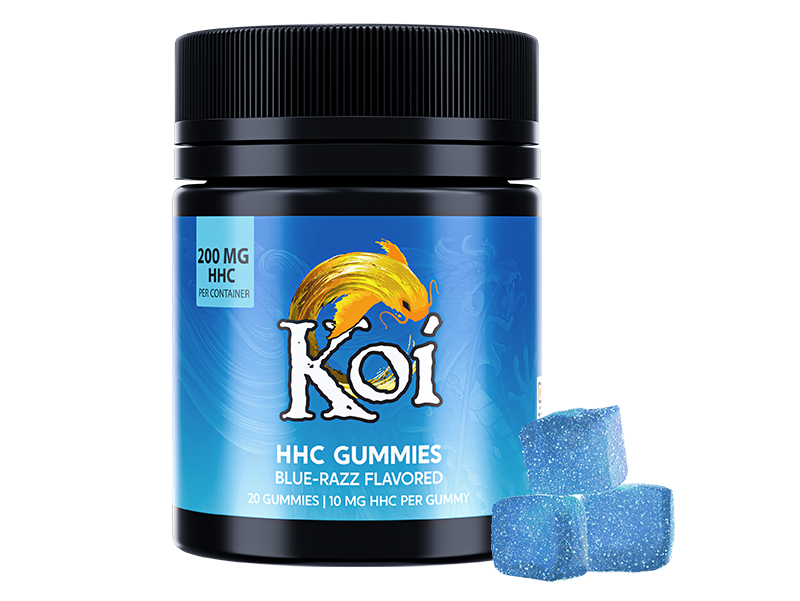 For the Fitness Fanatic
We all have friends in our lives who are avid exercisers. You may think the gym-goer in your life already has everything they need, but do they? What about the perfect recovery topical? Infused with our premium Koi PRIZM™ broad spectrum CBD and over a dozen other natural oils, our Koi Naturals CBD Balm is a powerful muscle balm that leaves skin feeling smooth and restored, and the effects are felt almost immediately.
For the Young Spirit
Don't think we forgot about the friend that lets their inner kid out a bit too much - especially on the holidays. Koi Delta 8-9-10 Pop Crystals deliver a fun signature crackling sensory experience that we loved long ago. You can choose from three great flavors: Blue Raspberry, Strawberry Lemonade, and Tropical. These THC trio treats contain fast-acting nanotechnology for longer-lasting effects and come in a single-serving packet that slips easily into a stocking.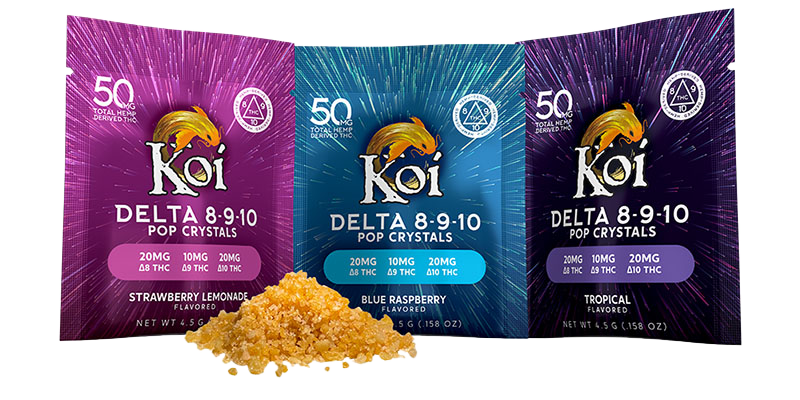 For the Entrepreneurial Dreamer
Nothing conveys that you care like a gift that says, "I support your crazy business venture." For that hard-working aspiring business owner in your life, Koi THCV + ACV Gummies will support them stay on task and make the most of their time. Combining focus-promoting THCV and apple cider vinegar, these Strawberry Acai flavored gummies have focus-promoting properties that will keep them pressing forward.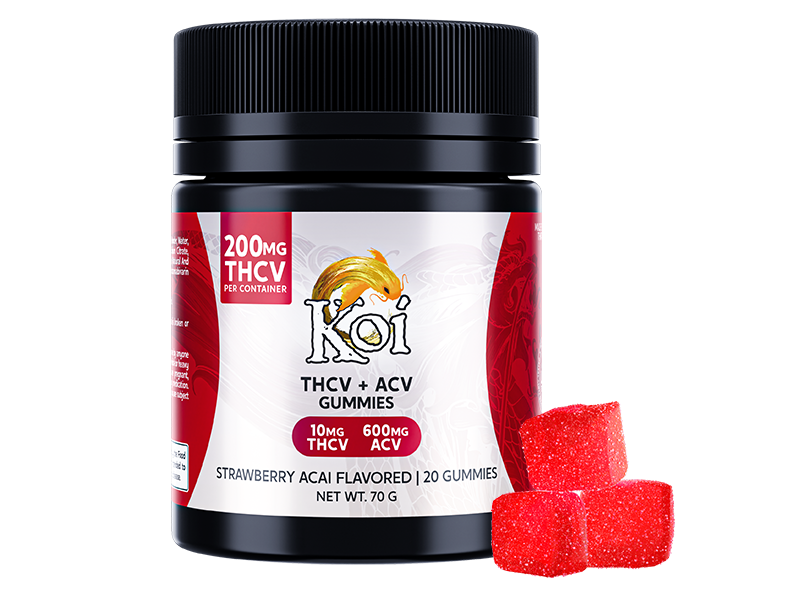 For The In-a-Funk Friend
Have a loved one not feeling themselves lately? Gifting a high-concentration CBD tincture means they'll be able to take the balancing benefits of CBD with them wherever they go. The Koi Complete Full-Spectrum CBD Tincture is crafted with full spectrum CBD oil so it contains a detectable amount of Delta-9 THC to deliver a strong entourage effect. Regular servings of CBD can help them stay centered, grounded, and calmer as they go about each day.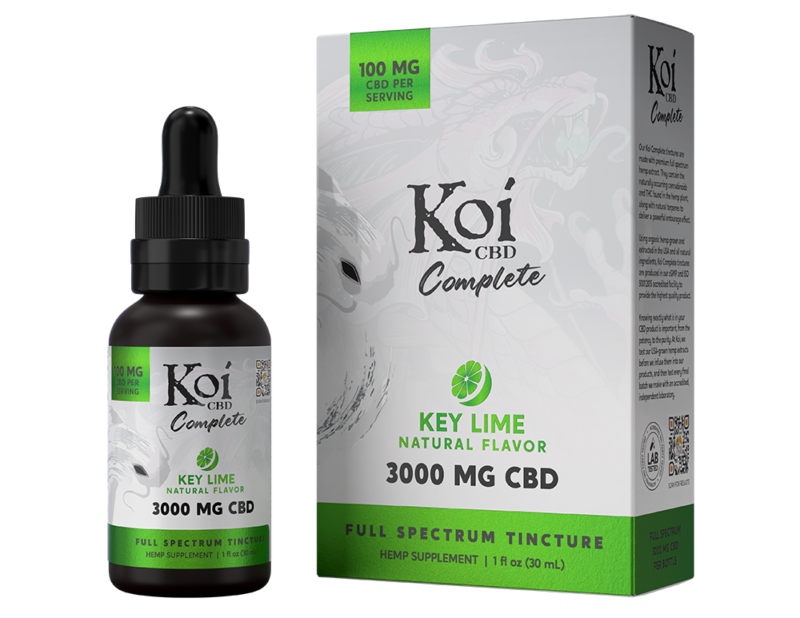 Earn Extra Cash for Koi Products this Holiday
Don't forget that with the Koi CBD Rewards program, you can earn cash to spend on Koi products when you refer your friends! With every successful referral, your friends get $10 off their first order of $50 or more, while you earn $10 in Koi Rewards Points.
Plus, as a Koi Rewards member, you can earn Rewards Points with actions like following Koi on social media and reviewing products. All are opportunities to earn money to apply to your Koi purchases this holiday.
Click the link to get details on the Koi CBD Rewards program.
Holiday Sales are Coming
Keep your eyes peeled for the non-stop deals and specials we have planned this season and treat your friends and family with truly thoughtful gifts of wellness and balance. We are just getting warmed up to bring you savings on the best CBD, Delta-8, and other cannabinoid products.
Happy Holidays from all of us here at Koi!