Delta 9 products are legal to buy and use in Florida if hemp-derived and contain a limited concentration of Delta-9 THC. Here's what to know about Delta 9 laws in Florida.
Delta 9 THC has been a staple for relaxation and wellness worldwide for centuries. It's gained immense popularity in the United States over recent years as laws have expanded to allow its legal access. At the same time, the legal status of Delta 9 is confusing because laws also vary state-by-state.
In Florida, Delta 9 is legal.* But it all depends on its source. Delta 9 is specifically listed as a controlled substance by the Drug Enforcement Agency, but when derived from hemp, it's legal in limited amounts under the 2018 Farm Bill.
Key Takeaways:
Hemp-derived Delta 9 is federally legal if it contains less than 0.3% Delta 9 THC on a dry weight basis under the 2018 Farm Bill.
In Florida, individuals 21 years or older can legally purchase and possess hemp-derived Delta 9 THC products that meet the requirements of the Farm Bill.
Additionally, Florida has implemented a program allowing qualifying patients to purchase marijuana-derived products containing Delta 9 THC legally.
Navigating the legal landscape can be confusing, especially with each state developing its laws. Fortunately, Florida is among the states that have embraced Delta 9 THC, with several laws in its favor.
What is Delta 9 THC?
Delta 9 THC, usually referred to as simply THC, is the most abundant, naturally occurring type of THC in the plant. It is a cannabinoid found in both cannabis plants but is much more abundant in marijuana than hemp.
Delta 9 gained recognition as the first uplifting cannabinoid to be discovered in the cannabis plant, thanks to its abundance. Its uplifting effects make it so popular, but it also offers many other wellness benefits. These benefits include relaxation, a soothing impact on the body and mind, and even support for a restful night's sleep.
Is Delta 9 Legal in Florida?
In short, yes – Delta 9 is legal in Florida. If you're a Florida resident over 21, you can legally buy and use Delta 9 hemp-derived products.
Multiple pieces of legislation permit the production, use, possession, sale, and distribution of Delta 9 in the sunshine state. First up is the 2018 Farm Bill, a federal law that made hemp and hemp-derived cannabinoids legal nationwide.
This legislation, also known as the Agriculture Improvement Act, is pivotal in distinguishing hemp from marijuana. It effectively removed hemp from the list of controlled substances, granting the legal status of hemp Delta 9, as long as it doesn't make up more than 0.3% of a product by dry weight.
According to the bill, cannabis plants that contain more than 0.3% THC on a dry-weight basis are considered marijuana, while those with less than 0.3% THC are considered hemp.
But Florida didn't stop there. The state also passed Senate Bill 1020, which further solidified the legality of hemp, hemp derivatives, cannabinoids, and other compounds. This bill amended Florida's Drug Abuse Prevention and Control Act following the enactment of the Farm Bill. This state-level law clarifies the freedom to purchase hemp-derived cannabinoids, including Delta-9, in person and online throughout the state.
Under these laws, all hemp-derived cannabinoids, including Delta-9, are legal to purchase in person and online throughout Florida as long as they contain less than 0.3% Delta-9 THC.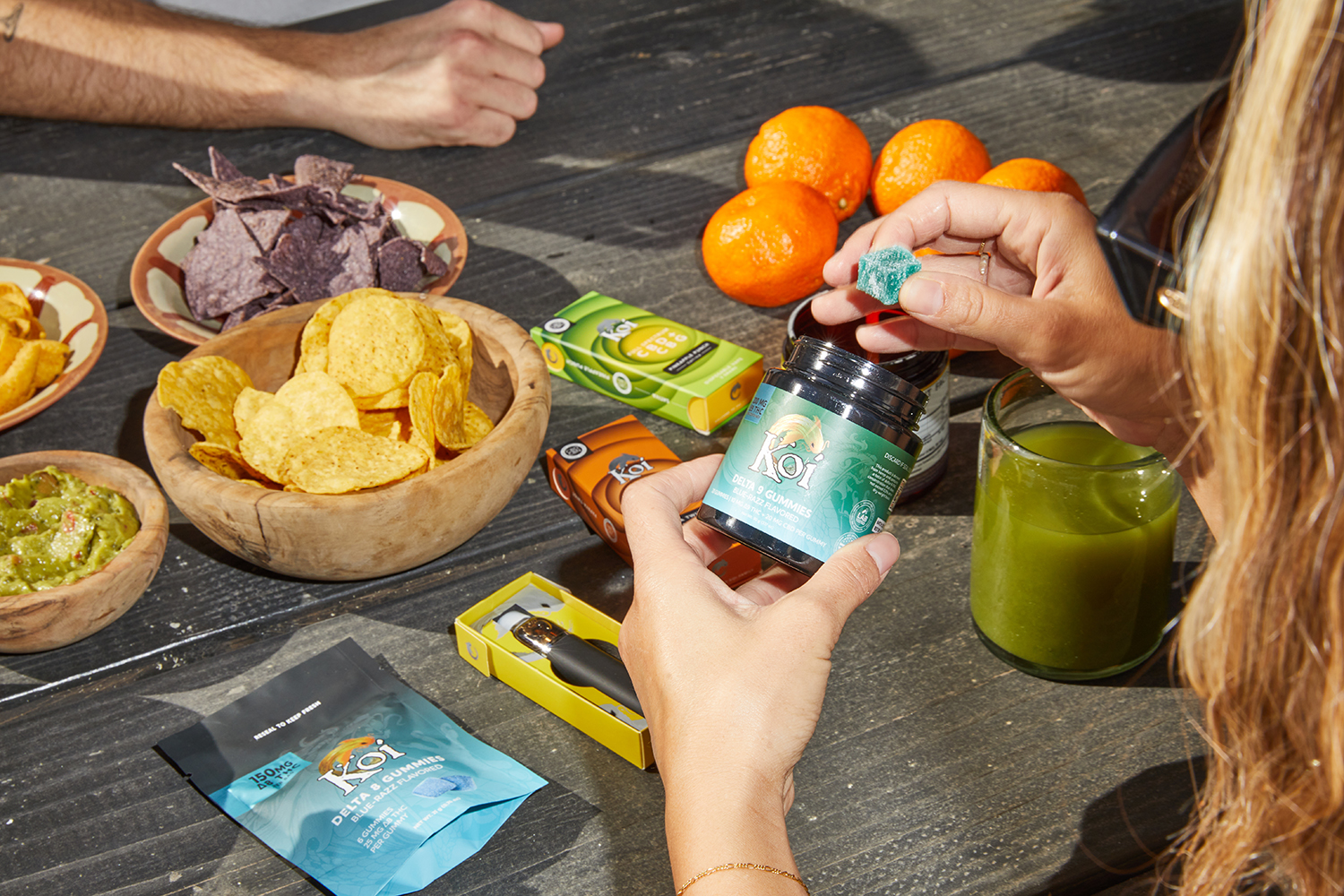 Marijuana Vs. Hemp-derived Delta 9
Marijuana-derived Delta 9 falls under different laws in Florida and nationwide than hemp-derived Delta 9.
Marijuana-derived Delta 9 can only be legally purchased and used in Florida as part of the state's medical cannabis program. This differs from the state's hemp-derived Delta 9 market.
Under federal law, Delta 9 that comes from marijuana continues to be a controlled and illegal substance. To access it in Florida, residents must follow stipulations outlined in the state's medical program. This process is not required to buy hemp-derived Delta 9 gummies or other products in Florida.
When considering your experience, you can consider Delta 9 derived from marijuana and Delta 9 derived from hemp virtually the same. But technically, they are derived from two types of plants. Their only differences are their source and the maximum concentration of THC one product can contain. Other than that, they are the same compound at the chemical level.
Hemp-derived Delta 9 products must contain less THC, which means you might need a little more than you would when taking Delta 9 from marijuana plants to feel the same level of effects. But at the end of the day, both compounds produce the same results.
Florida Medical Laws
The passage of Amendment 2 by voters in 2016 legalized the regulated use of marijuana-derived Delta 9 products under certain circumstances. Also known as the Florida Medical Marijuana Legalization Initiative, the law allows qualifying individuals to purchase Delta 9 products with up to 10% THC at licensed dispensaries with their doctor's approval. Senate Bill 8A, passed in 2017, also reaffirms access.
First, an individual must visit a certified doctor who confirms they have one of the approved medical conditions recognized by the state. Once the application is approved and the $75 fee paid, authorized individuals will receive a card that gives them access to buy legal products at the 450 state-approved dispensaries in the state. However, it's crucial to note that even with a valid card, purchasing products from an unauthorized source could still lead to legal consequences.
Can Delta 9 Be Shipped to Florida?
Yes, Delta 9 products can be purchased online and delivered to your home in Florida if you're 21 years or older. However, they must follow the Farm Bill's criteria, including hemp-derived and containing no more than 0.3% Delta 9 THC by dry weight.
Local Florida hemp shops have additional requirements they must adhere to when receiving hemp products in the mail. However, you aren't faced with those same rules as a consumer.
For you, shipping Delta 9 to Florida from other states is legal. Likewise, buying Delta 9 products and sending them to you in Florida is legal.
Because of the favorable legislation in Florida, it is one of the states with the most accessible access to products. This is a double-edged sword because you shouldn't trust every Delta 9 retailer you see. It still makes a lot of sense to buy Delta 9 products online, even in Florida, unless you have a reliable local brick-and-mortar shop you trust.
The main reason is that online stores are more transparent and reputable than some local stores. Reliable online retailers provide buyers with crucial information like complete ingredient lists and third-party lab testing for their products before purchasing so you know exactly what you're buying.
You also have the luxury of online reviews from people nationwide to help you distinguish legitimate brands from low-quality ones. You also have more variety, making it easier to shop for the Delta 9 products you want without having to leave your home.
What Delta 9 Means in Florida
Delta 9 is legal in Florida. But remember, the state has modeled its hemp legislation after the federal Farm Bill, which legalizes hemp but not marijuana. Therefore, marijuana Delta 9 remains illegal in Florida.
There's a $1,000 fine and up to 12 months in jail for possessing illegal Delta 9. It is unlawful to use, have, sell, distribute, or even cultivate the marijuana plant in the state.
If you are not an official part of the state's medical program and don't have a card, hemp-derived Delta 9 remains the safest way for Floridians like you to enjoy Delta 9.
Also, keep in mind that Delta 9 does show up on a drug test. So, while Delta 9 from hemp is federally legal, it will appear just like marijuana-derived Delta 9 on a test. Therefore, you'll want to refrain from using cannabinoid products if you're subject to testing at your job, especially considering Delta 9 stays in your system for up to 90 days.
Lastly, each state regulates hemp Delta 9 and other cannabinoids differently, so if you travel, you'll want to understand the laws where you're going and know the ins and outs of whether you can take Delta 9 on a plane.
Things to Look Out for When Buying Delta 9 in Florida
When purchasing hemp-derived cannabinoids like Delta 9 in Florida, you must be mindful of where you buy them. There are better approaches than simply grabbing them from the first store you come across. Whether you're shopping online or in person, there are several precautions you should consider:
Pick organic hemp – When selecting Delta 9 edibles or other products in Florida, opt for those made from organically grown hemp. While it's not a legal requirement, it's a necessary safety measure. Hemp is highly absorbent and can take in toxins from its environment. If pesticides and herbicides are used during growth, these chemicals may end up in the final product. To ensure safety, look for organically grown hemp without chemical pest control.
Look for reviews – Help ensure the quality of the Delta 9 you're considering in Florida by buying from reliable brands with whom other people have had good experiences. When considering where to buy Delta 9, Look to see whether there are customer reviews that speak to a product's quality, taste, consistency, and consistency.
CO2 extraction any day, every day – When it comes to extraction methods for Delta 9, CO2 extraction is the safest and cleanest option. Although it can be more expensive, it yields pure and consistent products without exposing you to hazardous materials. Generally, products obtained through CO2 extraction may be pricier, but they offer better quality and provide peace of mind. Companies that invest in CO2 extraction are committed to product safety and prioritize quality over quick profits.
Always ask for third-party lab test results – Each company sets its standards for purity and safety regarding hemp-derived cannabinoids, including Delta 9 products. Third-party lab testing is the only reliable indicator of a company's professionalism and dedication to delivering high-quality products to consumers. These test results ensure that the product is free from harmful contaminants and possesses the potency as advertised. Not having access to these test results should raise concerns and may be a factor in your purchasing decision.
Enjoying Your Delta 9 in Florida
Florida is a welcoming environment if you want to add Delta 9 products to your wellness and relaxation routine. Visit the Koi blog to learn even more about enjoying the cannabinoid, including how much Delta 9 you should take and how Delta 9 compares to THC-O and other types of THC.
* Legal disclaimer: The information presented is not legal advice, is not to be acted on as such, may not be current, and is subject to change without notice. This article was last updated in May 2023, and laws are different from state to state and are constantly evolving. Please consult an attorney where you live for verification of the legal status of Delta 9 products.