Learn about Ohio's Delta 9 THC legal landscape and what to consider when buying legal Delta 9 products within state lines.
The home of Rock and Roll is also rocking with Delta 9 THC, as long as it comes from hemp. Now, hemp Delta 9 products can be bought and used in Ohio but must meet specific rules.
Ohio has among the more forward-thinking Delta 9 legislation and is more permissive than other states.
Key Takeaways:
The 2018 Farm Bill makes hemp-derived Delta 9 THC products with less than 0.3% Delta 9 THC legal in Ohio.
Ohio also allows marijuana-derived Delta 9 THC as part of their medical program, with a valid prescription.
Ohio adults can legally buy hemp Delta 9 products in Ohio in person or through online vendors.
But here's the thing—laws can evolve and change over time. So, for a positive and legal experience, stay informed about what's currently allowed and what's not. So, let's delve deeper into the legal situation surrounding Delta 9 in Ohio, so you have the information you need.
What is Delta 9?
Delta 9 is the most recognizable of the more than 100 cannabinoids in the cannabis plant. It's best known as simply THC. It has been widely used for its uplifting properties. People have used Delta 9 for centuries for its body-soothing and mind-calming properties.
As time has passed, researchers have uncovered many potential benefits associated with Delta 9. These have only amplified its popularity, resulting in an incredible demand for this remarkable cannabinoid.
Benefits of Delta 9
Some of the potential benefits of Delta 9 include the following;
Body-soothing benefits
Delta 9 gets a lot of credit for its body-soothing properties. It is said to help ease tension and soreness following everyday physical activity. Products like Delta 9 gummies can help relax the body after a long day or on the weekends when you want to unwind.
Healthy appetite habits promotion
Delta 9 appears to support more vigorous eating habits by helping the body's endocannabinoid system. Consumers who use Delta 9 often say they enjoy eating more after taking Delta 9.
Relaxing and calming benefits
With its natural calming properties, Delta 9 can help quiet busy thoughts and help you better face stressful times. It's a go-to for those hoping to control daily worries or nervousness.
Sleep support
Many people have turned to Delta 9, hoping it will help them have more restful nights. Delta 9's potential positive influence on sleep may be two-fold. In small amounts, it creates a relaxing and calming effect that creates the perfect conditions for your mind to fall asleep and stay asleep longer. Also, it supports the performance of the body's endocannabinoid system, which helps to keep sleep habits balanced.
These Delta 9 benefits have contributed to its rampant popularity and the legal changes witnessed in the past few years.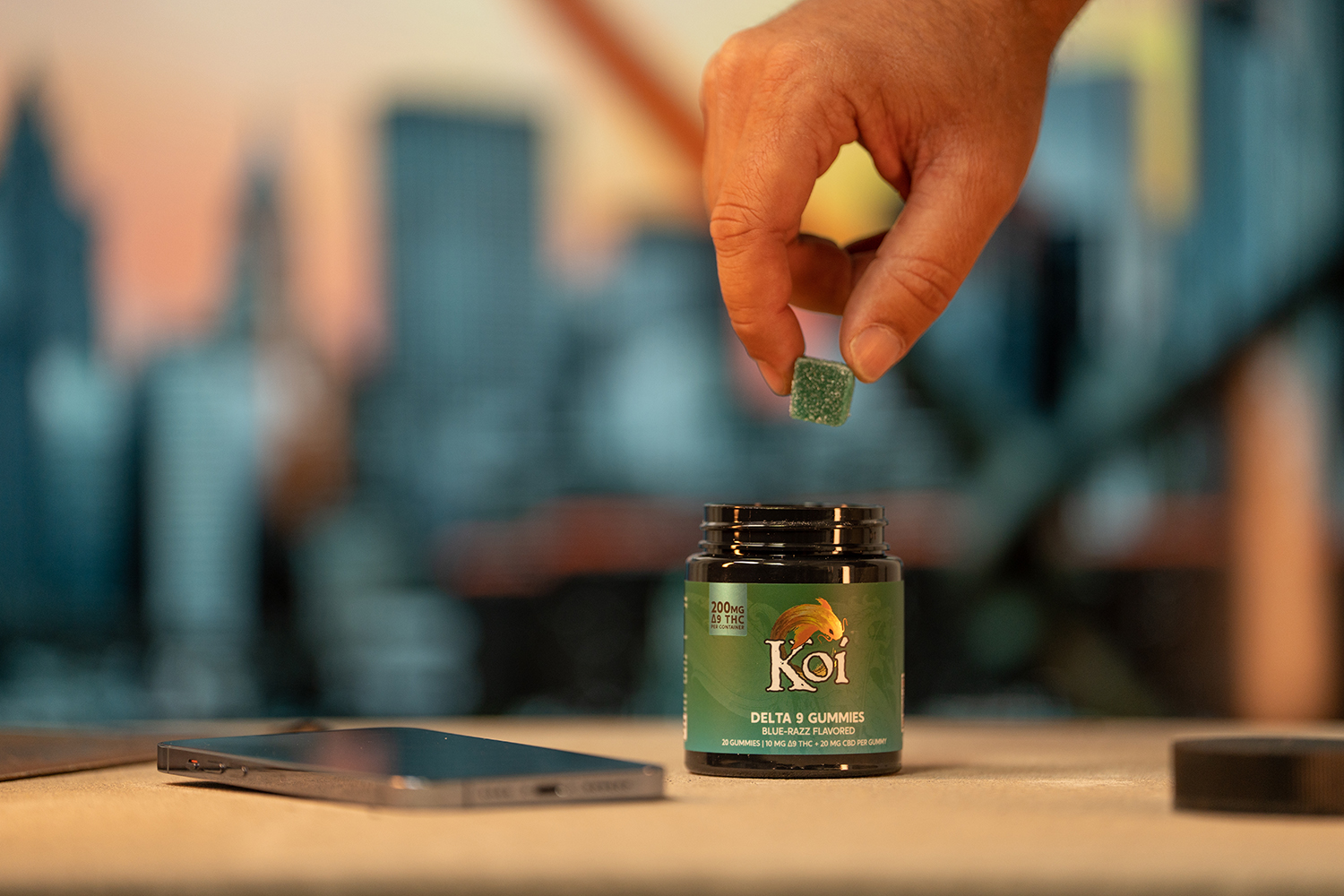 Delta 9 and the Federal Law
Before looking at the legal situation of Delta 9, it's important to touch on what Federal law says about Delta 9 THC.
For many years, all Delta 9 was illegal. Even at this time, it is classified as a Schedule I controlled substance.
However, in 2018, the federal government made its move to allow for some legal Delta 9. It passed the 2018 Agriculture Improvement Act, better known as the 2018 Farm Bill, which made hemp and hemp-derived products with less than 0.3% Delta 9 THC legal nationwide.
Today, Delta 9 is federally legal if it complies with the 2018 Farm Bill. Of course, not all Delta 9 products will meet this requirement, but some heavier hemp-derived products like Delta 9 edibles do.
This landmark federal legislation has no impact on the laws related to marijuana-derived Delta 9, which remains illegal under federal law.
Is Delta 9 Legal in Ohio?
Yes, some Delta 9 is legal in Ohio. Ohio state legislators have decided to follow the stipulations set out in the federal 2018 Farm Bill, which legalized Delta 9 products if they meet two rules:
Are hemp-derived
Contain no more than 0.3% Delta 9 THC by dry weight
Following the passage of the Farm Bill, Ohio confirmed the legality of hemp Delta 9 within its borders through various pieces of legislation:
Ohio Senate Bill 57
On July 30, 2019, Governor Mike Dewine signed Senate Bill 57. It legalized the state's growth, production, and transportation of hemp. The bill also brought Ohio's hemp program in line with federal law as part of the 2018 Farm Bill.
The same bill prohibits the State Board of Pharmacy from classifying hemp and hemp products as controlled substances. It authorizes the State Director of Agriculture to develop a plan for regulating hemp cultivation, pending approval from the United States Department of Agriculture.
The law also allows land used in commercial hemp cultivation to be taxed at its current agricultural use value. Here's a snippet of the law:
Chapter 928: Hemp and Hemp Products
(A) "Cannabidiol" means the cannabidiol compound containing a delta-9
tetrahydrocannabinol concentration of not more than three-tenths percent, derived from hemp.
(C) "Hemp" means the plant Cannabis sativa L. and any part of that plant, including the seeds thereof and all derivatives, extracts, cannabinoids, isomers, acids, salts, and salts of isomers, whether growing or not, with a delta-9 tetrahydrocannabinol concentration of not more than three-tenths percent on a dry weight basis.
(27) Tetrahydrocannabinol (synthetic equivalents of the substances contained in the plant or the resinous extractives of cannabis, sp. and/or synthetic substances, derivatives, and their isomers with similar chemical structure and pharmacological activity such as the following: delta-1-cis or trans tetrahydrocannabinol, and their optical isomers; delta-6-cis or trans tetrahydrocannabinol, and their optical isomers; delta-3,4-cis or trans tetrahydrocannabinol, and its optical isomers. (Since nomenclature of these substances is not internationally standardized, compounds of these structures, regardless of numerical designation of atomic positions, are covered.)), excluding tetrahydrocannabinol found in "hemp" and "hemp products," as those terms are defined in section 928.01 of the Revised Code.
(G) "Marihuana" has the same meaning as in section 3719.01 of the Revised Code.
(H) "Medical marijuana" has the same meaning as in section 3796.01 of the Revised Code.
(J) "Delta-9 tetrahydrocannabinol" means the sum of the percentage by weight of tetrahydrocannabinolic acid multiplied by 0.877 plus the percentage by weight of delta-9 tetrahydrocannabinol.
Marijuana Delta 9 in Ohio
Marijuana-derived Delta 9 is only legal in Ohio through the state's medical marijuana program.
On June 2016, Governor John Kasich signed House Bill 523 to allow medical marijuana in Ohio. It authorized a rulemaking procedure for establishing a "state-run or licensed system of growing facilities testing labs, physician certification, patient registration, processors and retail outlets."
Individuals over 21 with qualifying diseases can go to Michigan or another state where medical cannabis is legal, lawfully get marijuana-derived Delta 9, and bring it back to Ohio for usage in line with Ohio law.
Ohio state medical marijuana state regulations indicate that qualifying patients can have a 90-day supply limit of Delta 9 products. Available products available to them include oils, tinctures, patches, edibles, and other herbal materials.
Shipping Delta 9 To and From Ohio
Hemp-derived Delta 9 is legal in the Buckeye State, which makes it legal for online retailers to ship it to customers in Ohio. Also, customers have an extensive range of products available in convenience stores, vape shops, and health stores around the state.
You can legally ship Delta 9 products to Ohio, so reputable companies are available to you no matter where you are. The key is finding a brand that takes federal and state laws seriously. How much THC is in your Delta 9 product varies depending on its potency, and some brands may make products with too high of a concentration.
So, whether you shop online or in-store, finding a reputable source of Delta 9 is crucial. The hemp industry still needs more regulations, and some brands take quality and safety more seriously than others. If you're shopping online, review the product's complete ingredient list and check whether the brand provides third-party lab testing results on their products so you know exactly what you are putting in your body.
Is Delta 9 a Controlled Substance in Ohio?
There are two sources of Delta 9: One is derived from hemp, and the other comes from marijuana. They are technically the same compound, but how they are regulated in Ohio is vastly different.
Hemp-derived Delta 9 is legal because of the 2018 Farm Bill and is not a controlled substance in Ohio.
But, Delta 9 extracted from marijuana is illegal unless obtained through the state's medical program because marijuana is a Schedule 1 substance per the DEA's drug scheduling criteria.
Other Delta 9 Considerations in Ohio
While hemp Delta 9 is legally available for adults in Ohio, it's important to remember that Delta 9 will show up on a drug test. Delta 9 is the most popular of several types of THC, so if you are subject to testing at your job or in your sport, it is recommended to avoid any cannabinoid products.
Delta 9 stays in your body for up to 90 days, so you'll want to consider that as you decide whether to incorporate Delta 9 products into your wellness routine.
* Legal disclaimer: The information presented is not legal advice, is not to be acted on as such, may not be current, and is subject to change without notice. This article was last updated in May 2023, and laws are different from state to state and are constantly evolving. Please consult an attorney where you live for verification of the legal status of Delta 9 products.