We asked Koi customers how and why they use our products. The data offered some encouraging insights into how our CBD, delta-8 THC, and other cannabinoid products help people feel and live better.
Why people use Koi CBD products is as unique as our customers themselves. Some people arrive at Koi CBD because they've heard about the remarkable wellness properties of CBD and are seeking a trusted source. Others seek the stronger effects that some hemp cannabinoids can provide.
Our customers are always on our minds. And to make the best hemp cannabinoid products we can to meet your needs, we wanted to fully understand how and why you're using Koi CBD products. So, we asked!
Earlier this year, we asked regular Koi customers to share why they use our products. We hoped to learn more about the benefits you all receive from adding Koi to your routines. We also asked about your frequency of use to see how often you turn to us to get balanced, relax, feel uplifted, or sleep better.
We got back some incredible insights into how our CBD, delta-8 THC, and other new cannabinoid products make a positive impact on people's lives. Want to see them?
Relaxation and better sleep are the top reasons people use Koi CBD
Excitingly, when we asked, "What benefits do you use Koi products for?", we received a relatively wide range of responses. However, four benefits stood out from the rest: relaxation, better sleep, stress relief, and relief from discomfort.
More than 20% of you turn to Koi products for relaxation. That wasn't surprising to us, as cannabinoids' positive influence on our endocannabinoid systems can keep us centered and be helpful for unwinding. Regular servings of CBD and delta-8 THC as needed in the evenings are common techniques to have a relaxing evening.
Over 19% use Koi for a better night's sleep. Hemp cannabinoids like CBD, delta-8, and THC-O can help with sleep. With almost half of all Americans saying they feel sleepy during most days, it makes sense that we're looking to find ways to wake feeling more rested. It's why we're not surprised our CBN gummies have become a go-to for so many people.
Nearly just as many people use Koi to calm down. More than 18% say the benefit they use Koi products for is stress relief. Stress in America is considered a national health crisis, and too much can have real consequences on our minds and bodies. We're happy that Koi products have become your go-to stress reliever.
Over 17% of you use Koi for relief from discomfort. Aches and soreness are common issues for many people, and cannabinoids can offer some natural relief after strenuous workouts or physically-intense workdays.
You also told us that you use Koi products as part of your general wellness routine, recreation, focus, and workout recovery. And, of course, supporting the health of your furry family members with CBD for pets!
You find Koi CBD helpful as a part of everyday wellness routines
If you've followed us for some time, you'll know we're huge proponents of taking CBD daily for maximum benefits. So, we were happy to see the results after asking you, "When (how often) do you use Koi products?"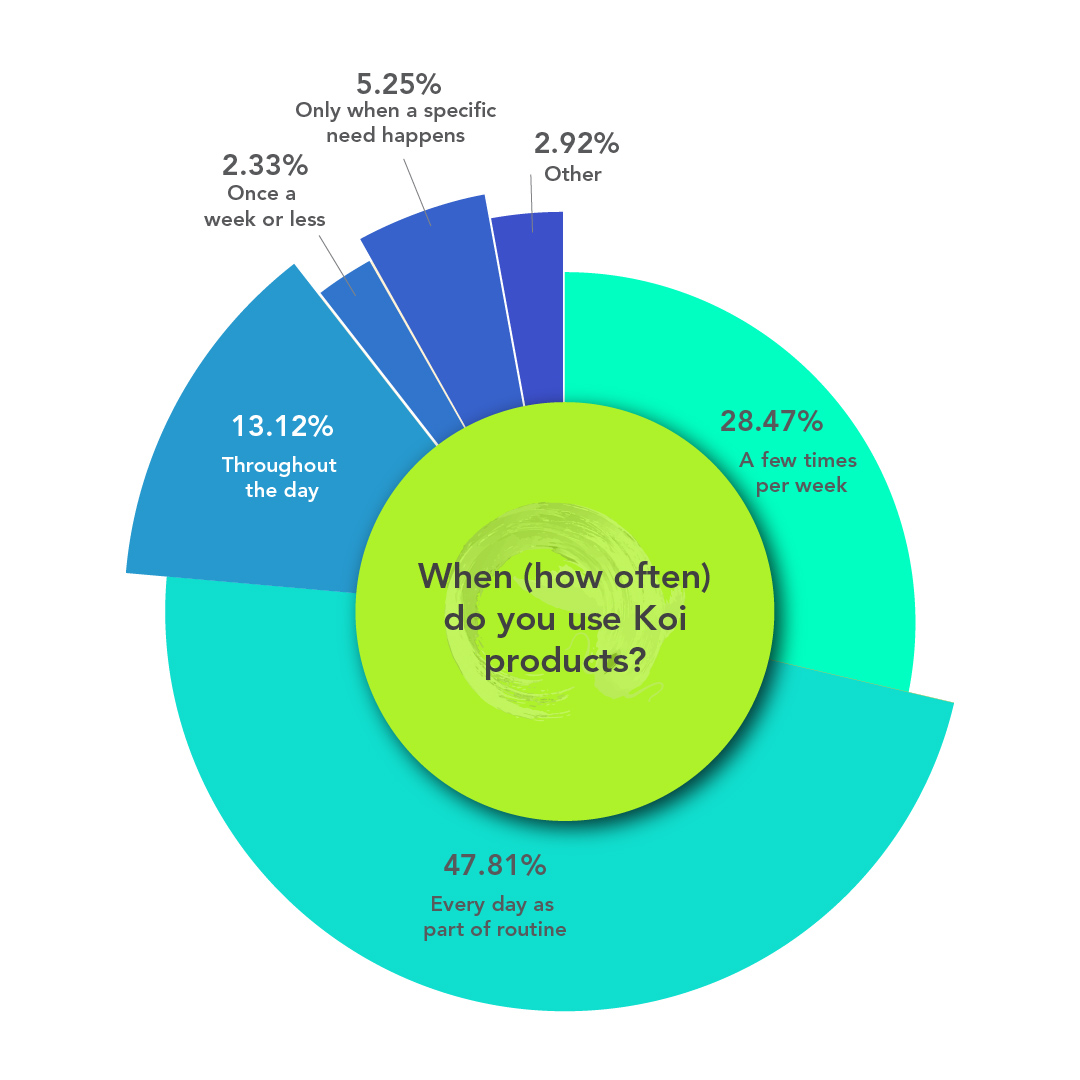 Nearly 48% of you said you use Koi products every day as part of a routine. Regular servings of cannabinoids nourish your body's endocannabinoid system and support overall better balance and functioning.
More than 28% indicated you use Koi a few times per week. We expect this includes those who use our noticeably uplifting cannabinoids as needed after particularly long days. Products like our Koi Delta 8 THC Gummies and Koi THC-O Gummies can be great for this type of thing.
Over 13% use Koi products throughout the day. Maybe you start your morning with a CBD product to promote balance as you take on the day and then enjoy a more elevating cannabinoid, like delta-9 THC or another type of sleep gummy, to ease into your evening. Or, you could use an ingestible CBD product like a CBD tincture or gummy to promote everyday wellness and then apply a CBD topical to troubled skin or achy muscles.
A small number of you use Koi once a week or less or only when a specific need calls for it.
Learn more about Koi cannabinoids
Our hope for this is to share how you can use Koi to make your days better. If you need relaxation, better sleep, or stress or discomfort relief, we have a cannabinoid product for you!
Interested in learning more? Discover more about the benefits of the many cannabinoids that Koi has to offer by visiting our blog. You can also head to our online CBD shop to get started with your cannabinoid routine.