Win Koi CBD products, a Victrola Revolution Go Turntable, exclusive vinyl from Newbury Comics, and tickets to Easy Star All-Stars' upcoming tour.
Is there anything better than enjoying Koi CBD products with live music? We don't think so, which is why we're thrilled to announce that Koi CBD is sponsoring a sweepstakes giveaway with revered reggae collective Easy Star All-Stars.
3/31/22 UPDATE: Congratulations Derek Van Zile for being selected sweepstakes Grand Prize winner! The winners of runners-up prizes are Eric Emerson, Billy Denis, Jeff Mann, & Joe Dasher!
Easy Star All-Stars, one of the best-selling reggae bands of the 21st century, are headed out on a 5-stop tour this spring to play their best-selling Pink Floyd tribute, Dub Side of the Moon, in full, plus a selection of new material and songs from their other albums. Starting April 10 through April 23, they have shows in Cambridge, Brooklyn, Philadelphia, DC, and Baltimore.
Through the new Koi CBD-sponsored sweepstakes, you can win yourself a pair of tickets for the tour, along with a Victrola Revolution Go Turntable, colored vinyl exclusives of Easy Star All-Stars' Dub Side of the Moon and Radiodread, and a Koi CBD Prize Pack.

> Click to enter the Koi CBD-sponsored Easy Star All-Stars Sweepstakes. <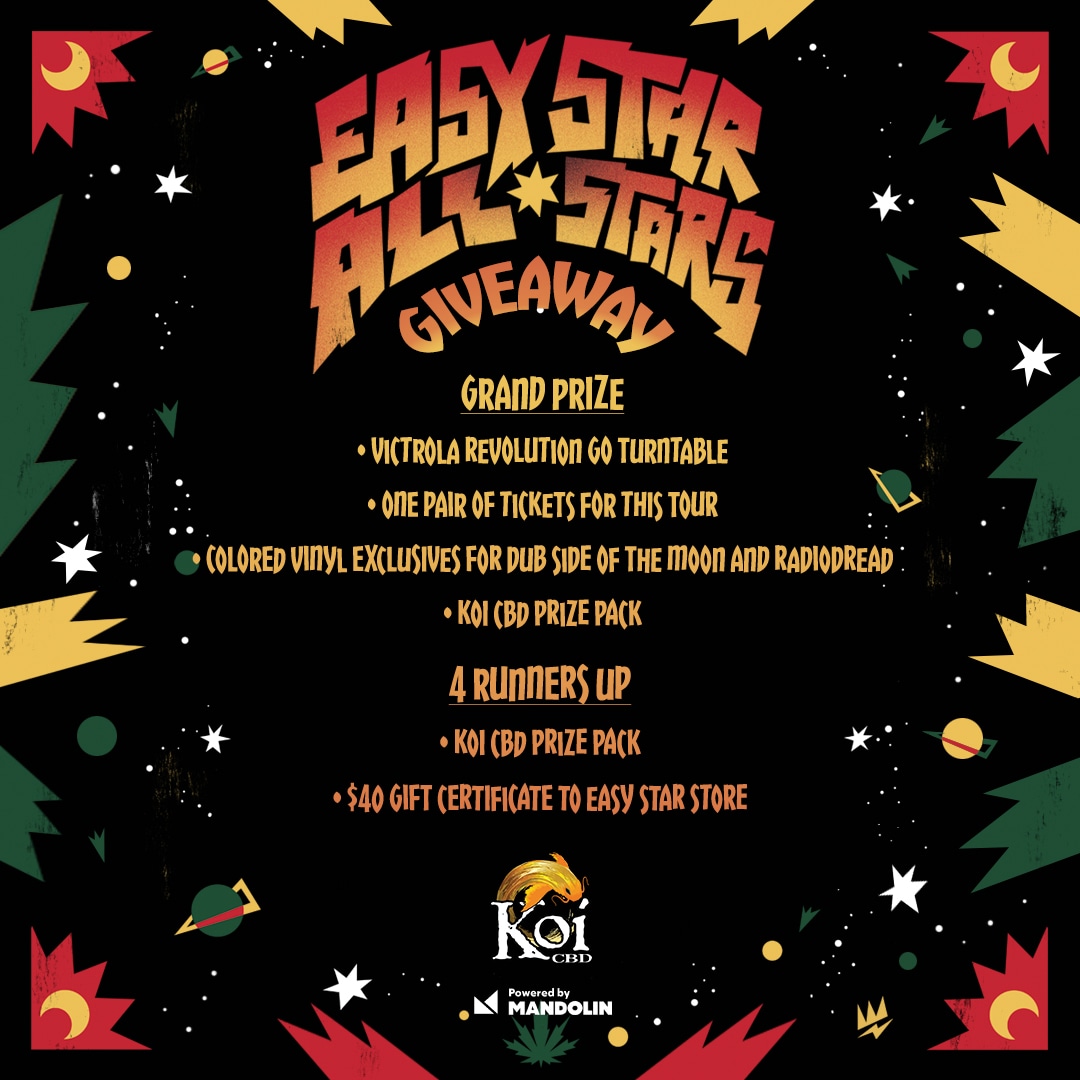 Tour Dates:
4/10: Cambridge, MA at SONIA
4/20: Brooklyn, NY at Brooklyn Bowl
4/21: Philadelphia, PA at Brooklyn Bowl Philadelphia
4/22: Washington DC at The Hamilton
4/23: Baltimore, MD at Soundstage
If you don't live near one of the five cities of the tour or prefer to vibe at home, you can live stream the April 22nd Washington, DC show for $10 on Mandolin.com.
Want to set yourself up for an epic night? Grab a jar of Koi Delta 8 THC Gummies, an Easy Star All-Stars Livestream Ticket for April 22, and you're all set to truly take in the beautiful vocal hormonies and premier rhythm section of Easy Star All-Stars.
At Koi CBD, we love supporting artists like Easy Star All-Stars, who use their creative expression to uplift others. This sponsorship follows our support in February of Cali Vibes 2022, a three-day reggae music festival in Long Beach, CA. Last year, we were thrilled to be a part of the one-day music festival Bayfest 2021 in San Diego.